The Heart of Public Health
Hatcher Award honors school pioneer Eugene Gangarosa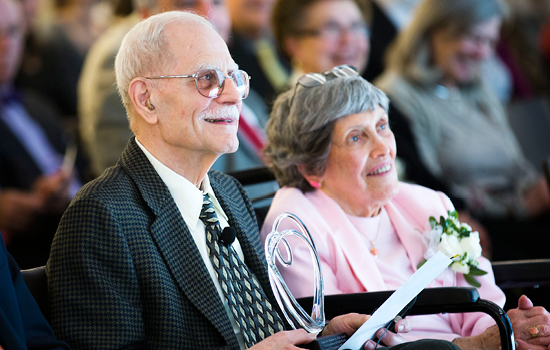 As Eugene Gangarosa tells it, he began his career in public health at age 10. He entered the field by reading books about microbes and related topics while convalescing from rheumatic fever.
Today, Gangarosa is considered a public health legend, both as an expert and educator in the prevention of enteric diseases and as a visionary who believed that a school of public health could thrive at Emory. For these achievements, Gangarosa received the 2013 Charles R. Hatcher Jr. MD Award for Excellence in Public Health. 
Gangarosa is the 11th recipient of the award, established by the school in 1996 to honor Hatcher for his service to and support of public health. Hatcher, a longtime cardiac surgeon at Emory and the first recipient of the award, supported creation of the School of Public Health in 1990 during his tenure as vice president for health affairs and director of the Woodruff Health Sciences Center.
"The school has grown enormously due to Gene's vision and the support of Charles Hatcher," noted Dean James Curran during the award celebration.
Gangarosa began his career in earnest by helping rebuild the water and sanitation systems in Naples, Italy, during World War II. Later, at the Walter Reed Army Institute of Research, he defined the pathogenesis of cholera by studying patients in Bangkok, Thailand. His work provided the foundation for studies by other investigators that led to the discovery of oral fluid therapy, which drastically reduced infant mortality.
He continued his research in intestinal pathophysiology in Lahore, Pakistan, as director of the University of Maryland's Pakistan Medical Research Center. In 1964, he joined the CDC, where he subsequently led the Epidemic Intelligence Service, the Enteric Diseases Branch, and the Bacterial Diseases Division. He retired from the CDC in 1978 to serve as dean at the American University of Beirut, where he transformed a graduate program into an independent school of public health. In 1982, he joined Emory to direct the struggling master of community health program. Working with William Foege, then director of the CDC, and leaders at Emory, Gangarosa tripled enrollment by borrowing faculty from the CDC to teach and defining the curriculum more clearly by renaming it as the master of public health program. 
Gangarosa, now professor emeritus of international health, and his wife, Rose, continue to play a role at the school through the Center for Global Safe Water at Emory. Together, they created two endowed professorships—the Eugene J. Gangarosa Chair in Safe Water, held by Christine Moe, and the complementary Rose Salamone Chair in Environmental Health, held by Thomas Clasen, who joined Rollins this fall after serving on the faculty at the London School of Hygiene and Tropical Medicine.
"The school would not be what it is today without Gene, and Gene would not be who he is without his wife, Rose," said Curran. "They are a remarkable couple. I realize how important you are as a team. You accomplish much together." 
Related Stories
"175 Makers of History: Eugene J. Gangarosa"
—