Class Notes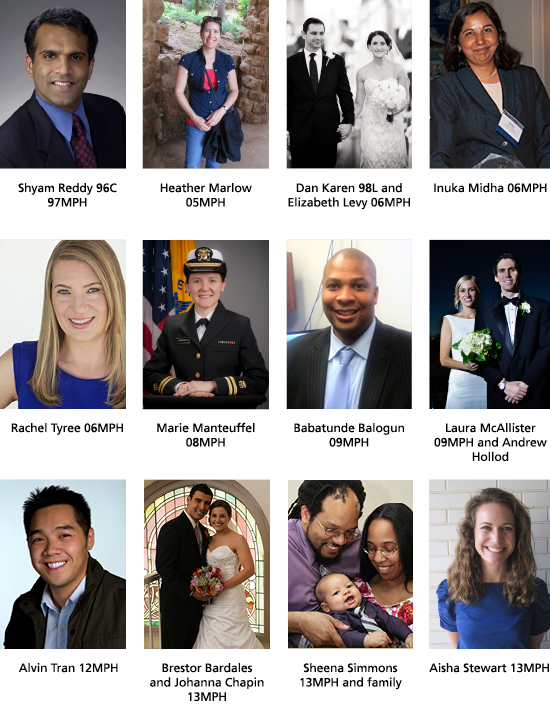 1980s
Suzanne Chungaon Hughes 87MPH is a research investigator and associate director of the Center for Behavioral Epidemiology and Community Health at San Diego State University.
---
1990s
Julie Beth Friedman 91MPH is associate director of project and life cycle management at Medivation in San Francisco. 
Born: To Dr. Chanda Nicole Holsey 96MPH and her husband, Eric, a daughter, Erin Morgan, on Feb. 22, 2013, at the Naval Hospital in Jacksonville, Fla. 
Shyamsundar (Shyam) K. Reddy 96C 97MPH is senior vice president, general counsel, and corporate secretary at Euramax International Inc. in Norcross, Ga.
Dr. Jonathan Mermin 98MPH is director of the National Center for HIV/AIDS, Viral Hepatitis, STD, and TB Prevention at the CDC. With the CDC since 1995, Mermin was named country director for Kenya in 2006. He returned to Atlanta in 2009 to lead the CDC's domestic HIV prevention activities.
Nahad Sadr-Azodi 99MPH is a public health adviser at the CDC.
---
2000s
Dr. Jean O'Connor 98C 01L/MPH was elected to the board of directors of Public Health Foundation Enterprises.
Jennifer S. Greenwald 02MPH is a senior manager of business operations in intramural research at the American Cancer Society in Atlanta. 
Marcy Goldstone Opstal 01C 02MPH and her husband, Dan 01C, live in the Washington, D.C., area with their two children, Juliana and Alexander. Marcy works for the Agency for Healthcare Research and Quality. 
Whitney Pyles Adams 03MPH is a senior business development specialist for global health at CARE USA.
Dr. Karen Schroeder Card 92OX 94C 03MPH is an epidemiologist with the Tuberculosis Control Program in the Florida Department of Health. 
Jill Eden Clark 03MPH is assistant director of family planning at the Massachusetts State Department of Health in Boston.
Robyn Kay 03MPH is a ­clinical epidemiologist at Baptist Medical Center in Jacksonville, Fla.
Melissa S. Creary 00C 04MPH, a doctoral candidate in the Graduate Institute of Liberal Arts at Emory, was awarded a 2013-2014 Boren Fellowship for up to a year of study in Brazil to further her research on sickle cell disease.
Dr. Heather M. Marlow 05MPH is a senior associate of research and evaluation at Ipas. She holds a PhD in maternal and child health from the University of North Carolina at Chapel Hill.
Lara Hendy Quinlivan 05MPH works at Planned Parenthood Health Systems in Winston-Salem, N.C.
Aarati N. Rao 05MPH is a clinical pharmacist at Huntsman Cancer Institute in Salt Lake City, Utah.
Jennifer E. Robertson 05MPH is an epidemiologist at the Salt Lake Valley Health Department.
Dr. Leisa M. Rossello 05MPH is practicing emergency medicine at Portsmouth Naval Hospital in Virginia. 
Married: Elizabeth Levy 06MPH and Dan Karen 98L on Nov. 10, 2012, in Savannah, Ga. Liz works in medical education for Given Imaging, and Dan is executive director of the National Tax Program at Ernst & Young. They live in Atlanta.
Inuka Midha 06MPH received the 2013 Open Society Award from the Society for Public Health Education at its 64th annual meeting in Orlando, Fla.
Melody Moezzi 06L/MPH published Haldol and Hyacinths: A Bipolar Life (August 2013). Her memoir chronicles her battle with mental illness using the healing power of hope and humor. 
Rachel A. Tyree 06MPH was promoted to communications director for the Division of Chronic Disease and Injury Prevention at the County of Los Angeles Department of Public Health. 
Rebecca L. Morgan 05C 07MPH is a health scientist with the National Center for HIV/AIDS, Viral Hepatitis, STD, and TB Prevention at the CDC.
Dr. Marie G. Manteuffel 08MPH is a lieutenant in the U.S. Public Health Service. She is serving as a pharmacist on assignment in the Division of Part D Policy at the Centers for Medicare and Medicaid Services in Baltimore, Md. 
Babatunde O. Balogun 09MPH is a budget analyst in research and development with the VA Boston Healthcare System. 
Jessica D. Harris 09MPH is a development specialist with the Atlanta nonprofit Year Up.
Lauren M. Hill 09MPH works at Planned Parenthood in Pasadena, Calif. 
Married: Laura McAllister 09MPH and Andrew Hollod on Nov. 10, 2012. Laura is an epidemiologist at the New York City Department of Public Health, and Andrew is a financial associate with the TZP Group in New York City. 
Michelle D. Putnam 09MPH is the associate director of research and advocacy at Hemophilia of Georgia.
Megan Wall 09MPH is an Epidemic Intelligence Service officer with the California Department of Public Health. 
Nicole M. Kosacz 10MPH is an epidemiologist in the Maternal and Child Health Program at the Georgia Department of Public Health.
Megan K. Miller 10MPH is a health volunteer with the Peace Corps.
Toshiko Dignam 11MPH works at Planned Parenthood Rocky Mountain in Denver, Colo.
Ted S. Gansler 11MPH is director of medical content at the American Cancer Society.
James D. Gooch 11MPH is coordinator for the Collegiate Leaders in Environmental Health Internship Program with the National Center for Environmental Health/Agency for Toxic Substances and Disease Registry. He previously was an emergency responder with the EPA.
Dr. Matthew E. Oster 10MR 11MPH received an Atlanta Business Chronicle 2013 Health Care Hero Award in the innovation category. He won for creation of the Pulse Ox Tool, a free website and smartphone app to better interpret the results of Pulse Oximetry Screening, used to detect critical congenital cardiac defects in newborns. Oster is a pediatric cardiologist with Children's Healthcare of Atlanta.
Andrea L. Stokfisz 11MPH is a health educator at the DeKalb County Board of Health. 
Dr. Cynthia Jemenso Yohanna 11MPH is a state technical adviser with Save the Children USA in Georgia.
Ruth W. Dawson 12L/MPH is a Reproductive Justice Fellow at the American Civil Liberties Union of Southern California in Los Angeles. 
Anna Newton-Levinson 12MPH is a Sexual Health Fellow at the CDC.
Priyanka Pathak 12MPH is a health scientist in the Office of Policy, Planning, and Evaluation in the National Center for Environmental Health/Agency for Toxic Substances and Disease Registry. 
Charlotte Sibley ­Perlowski 12MPH is a research assistant in the Global Health, Population, and Nutrition Science Facilitation Department with the nonprofit FHI 360 in Durham, N.C. 
Catherine Plumlee 12MPH is a project manager at Gretchen Swanson Center for Nutrition in Omaha, Neb.
Kristen Bell Sanderson 12MPH is a program coordinator for Safe Kids Georgia with Children's Healthcare of Atlanta.
Tu My To 12MPH is an Epidemic Intelligence Service officer with the California Department of Public Health. 
Alvin Tran 12MPH completed a fellowship in health policy reporting for Kaiser Health News. His stories appeared in The Washington Post and aired on NPR and the PBS NewsHour. This fall, he began doctoral studies in nutrition and social/behavioral sciences at Harvard School of Public Health.
Dr. Fawaz S. Alrasheedi 13MPH is a public health specialist with the Ministry of Health in Buriadah, Saudi Arabia.
Kari. A. Bannon 13MPH is a corps member with Teach for America.
Kirsten S. Bondalapati 13MPH is an intern at Truven Health Analytics in Ann Arbor, Mich. 
Jacqueline You Yan Chan 13MPH is a communicable disease investigator with the San Mateo County Public Health Department in California.
Married: Johanna R. Chapin 13MPH and Brestor Bardales on May 25, 2013, in Atlanta. They live in Decatur, Ga.
Dr. Kiersten S. Derby 13M/MPH is a pediatric resident at the University of Washington.
Dr. Daiichi Morii 13MPH is an associate professor at Osaka University Hospital in Osaka, Japan. 
Marissa K. Person 13MPH is a statistician at the CDC.
Luke A. Putnam 13MPH is an administrative intern at the Palmetto Health Council in Palmetto, Ga. 
Shweta M. Shah 13MPH is a VA National Quality Scholars Fellowship Fellow at the White River Junction VA Medical Center in White River Junction, Vt. 
Born: To Sheena Simmons 13MPH and her husband, Rashad, a son, Daniel, on Feb. 1, 2013.
Dr. Christina Souther 13M/MPH is a general surgery resident at the University of Hawaii.
Aisha E.P. Stewart 13MPH is a technical adviser with the Trachoma Control Program at the Carter Center. 
Aiden K. Varan 13MPH is an applied epidemiology fellow with the Council of State and Territorial Epidemiologists in San Diego, Calif.
Alexander (Sasha) Zaharoff 13MPH is an environmental epidemiologist with the Utah Department of Health in Salt Lake City. 
---
Alumni Deaths
Mildred R. (Ming) Morgan 83MPH of Lexington, Ky., on March 19, 2013, at age 67. 
Larisa A. Slaughter 01MPH of Atlanta on March 1, 2013. She is survived by mother Lena Slaughter, fiancé J.P. Leonard, and sister Lynne Padgett.
Dr. Ashley L. Hilliard 08M/MPH of Washington D.C., on Feb. 23, 2013. Formerly of Snellville, Ga., she was a physician at Georgetown Hospital and the National Institutes of Health. 
Dr. Erica S. Thompson 12MPH of Orlando, Fla., on June 21, 2013, from complications caused by lupus. She was 43. Thompson was a pharmacist at various Walgreens and Winn–Dixie stores throughout Orlando. She also founded Orlando Road Runners, a track team for children ages 4–18.