Network of Success
Kaitlin Porter cultivates ties between alumni and students as board president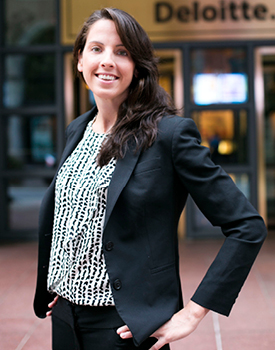 Kaitlin Porter 08 MPH is a go-to expert on Rollins for students and alumni. She plans to cultivate those connections further as the new president of the RSPH Alumni Association Board.
"Rollins made a huge impact on my life. It gave me the tools and the opportunities to flourish and sharpen my leadership skills," says Porter, a senior consultant with Deloitte and Touche LLP in Atlanta. "I want every student and alumnus to have the same experience—to take advantage of everything that Rollins has to offer them."
Porter began building networks as a global health major and student leader at Rollins. As the social chair of the Student Government Association, she worked with the Office of Admission and Student Affairs to cofound the Rollins Student Ambassadors, a group of 50-plus members who work to increase school visibility, promote the public health field, and recruit students. She also wrote a blog called "Ask Porter" so that incoming students could ask questions about classes, internships, and life in Atlanta. Since graduating, she has guided and stayed in touch with students through the mentoring program in Rollins' Office of Career Services.
At Deloitte, Porter addresses complex global health management issues in collaboration with the Division of Global HIV/AIDS at the CDC. "Our focus has been on helping our clients refine processes and systems to afford better monitoring and evaluation of HIV programs and research sponsored by the CDC across the world," she says. Porter also provides publication support and training for CDC field office staff. In this role, she has conducted training in Botswana, Ethiopia, Mozambique, Tanzania, Thailand, and Vietnam, resulting in improved program performance and knowledge management.
Porter's education and service at Rollins have shaped her career path at Deloitte. "My training in global health policy and management provided me with a solid foundation to support global health programs," she says. "I now have the vernacular and the lens through which I can better understand my clients' needs." She is keenly aware of the ubiquitous presence of Rollins. "Every time I visit a field office, I run into Rollins alumni—our global presence as an alumni network is astounding."
RSPH has one of the most active alumni boards at Emory, and board members are deeply invested in the success of students, faculty, and alumni. "We now have more than 7,200 alumni living in 109 countries, including the United States," says Porter. "As our alumni network continues to grow, it is critical that we keep these alumni engaged to each other and the school. When you feel connected to something, you are more likely to give your time, energy, and resources."
Porter joined the RSPH Alumni Board in 2010 and helped create the Rollins alumni Facebook page, which now has close to 800 fans. Last year, she chaired the alumni board Admissions Committee to help connect alumni to prospective students. She also copiloted the "Rollins at Work" program to engage alumni at their workplace, strengthen their connection with the RSPH, and provide a setting to network with other alumni. 
As board president, she plans to focus on programming in other key cities such as New York, Washington, D.C., and San Francisco. Says Porter, "It's important for alumni who leave Atlanta to know they have a local network to connect with around public health opportunities."—Sally Wolff King 79G 83PhD