HERCULES is first exposome center in the U.S.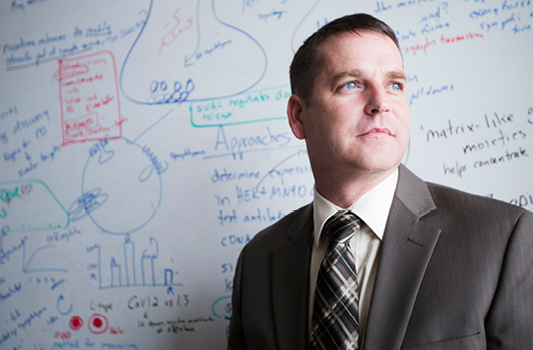 Gary Miller aims for Rollins to be a giant in exposome research with HERCULES (Health and Exposome Research Center: Understanding Lifetime Exposures), funded by the first exposome-based center grant awarded in the United States.
The $4 million grant comes from the National Institute of Environmental Health Sciences. Two other exposome research centers are in London and Barcelona.
"HERCULES is more than an acronym," says Miller, director of the center. "Sequencing of the human genome project was a Herculean task, and determining the impact of the complex exposures we face throughout our lives represents a similarly difficult challenge. The exposome itself represents all of the external forces that act upon us. We know that measuring the exposome will be extremely difficult but very worthwhile."
The exposome is a relatively new concept that incorporates all of the exposures encountered by humans. It is proposed to be the environmental equivalent of the human genome and includes lifetime exposures to environmental pollutants in food and water, physical activity, medications, homes, and daily stressors. Exposome research looks holistically at the human body's exposures, how the body responds to those exposures, and their combined effects.
Initially, the HERCULES center includes 38 investigators from Emory and the Georgia Institute of Technology, where experts will aid in computational analysis and integration of large data sets. To learn more about HERCULES, visit humanexposomeproject.com.
Related Links
Story: Emory, Georgia Tech receive first human exposome center grant in U.S.