New chair of Behavioral Sciences and Health Education named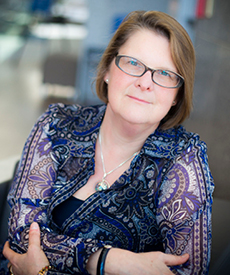 Colleen McBride was named Rollins Professor and chair of the RSPH's Department of Behavioral Sciences and Health Education, effective July 2014.
She comes to Emory from the National Human Genome Research Institute of the National Institutes of Health, where she has served as founding chief and senior investigator of the Social and Behavioral Research Branch. McBride's research focuses on public health interventions to promote risk-reducing behaviors, specifically using genetic information to motivate healthy behaviors. Genetic information, scientists believe, eventually will allow lifestyle interventions to be personalized to make compliance with healthy behaviors easier.
McBride held academic positions at the University of Washington as well as Duke University Medical Center, where she served as chief of the Division of Prevention Research in the Department of Community and Family Medicine. At Duke, she was director of the Cancer Prevention and Control Research Program. She also held adjunct faculty appointments in the Gillings School of Global Public Health at the University of North Carolina and the Johns Hopkins Bloomberg School of Public Health.
Related Links
Story: School of Public Health welcomes new chair of Behavioral Sciences and Health Education