Claire Peterson receives first Kathleen R. Miner Scholarship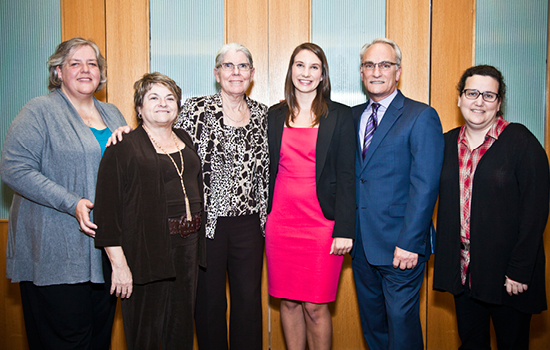 The first Dr. Kathleen R. Miner Scholarship for Public Health Excellence was awarded to second-year MPH student Claire Peterson.
The scholarship was established by former students of Kathy Miner 79MPH, associate dean of applied public health, as a way to thank and honor her.
Miner came to Rollins in 1978 as a student and never left. "She is a force in public health," says Richard Levinson, executive associate dean of academic affairs. "But above all, she is a teacher and a mentor."
Many former students credit Minor with shepherding them into their current careers. To express their appreciation, a committee led by the self-proclaimed "Kathy's Kids"—Dennis Jarvis 88MPH, Martha Alexander 86MPH, Nancy Hunt 87MPH, and Moose Alperin 91MPH—have raised more than $140,000 to establish the scholarship fund.
Peterson, who was selected as the first recipient, earned her B.S. in genetics with a minor in women's studies from the University of Wisconsin-Madison. At Rollins, Peterson is working toward her MPH in behavioral sciences and health education with a certificate in maternal and child health. She also works in health promotion at Georgia Institute of Technology, focusing on sexual health, positive body image, and preventing sexual violence.
Related Resources:
Scholarships @ Rollins School of Public Health