McCauley receives Hatcher Award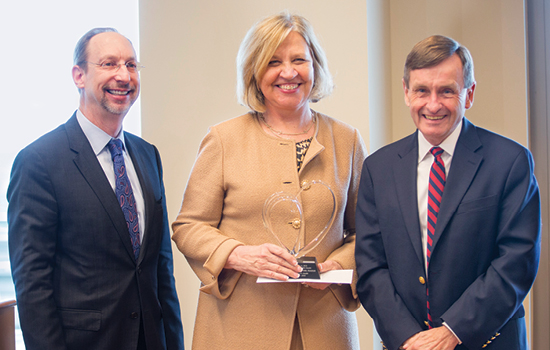 Linda A. McCauley, dean and professor of the Nell Hodgson Woodruff School of Nursing, was awarded the 2016 Charles R. Hatcher Jr. M.D. Award for Excellence in Public Health.
"Linda has a remarkable record, not only as a dean but as an alumna—she got her nursing degree from Emory in 1979," says Dean James Curran, who presented the award. "She has hundreds of publications, continuous federal funding—three NIH grants this year alone—and has served on many National Academy of Medicine committees."
McCauley's interests have long straddled nursing and public health. She is a leading researcher in environmental exposures with a focus on identifying culturally appropriate interventions to decrease the impact of environmental and occupational health hazards in vulnerable populations.
The annual award is named for Dr. Charlie Hatcher, who advocated for the creation of the school of public health during his tenure as Emory's vice president for health affairs.
"This award sums up the interconnectedness of Emory health sciences—an award named after a surgeon, given by the dean of public health, and awarded to the dean of nursing," says Jonathan Lewin, executive vice president for health affairs, executive director of the Woodruff Health Sciences Center, and president, CEO, and chair of Emory Healthcare. "What we have here is extraordinary."