Alumni News
1970s
Nancy Thompson 77PH
Nancy Thompson 77PH received Emory's 2016 Scholar/Teacher Award, supported by the United Methodist Church's General Board of Higher Education and Ministry. The award honors exceptional teaching, significant contributions to the scholarly life of the university, concern for students and colleagues, and commitment to high standards of professional and personal life.
Thompson was a student in the first-ever masters of community health class in 1975. While working at the CDC a few years later, she began teaching at Emory. She came on full time in 1985. She played a pivotal role in developing the curriculum for the school of public health, and over the years she has touched untold numbers of students with her enthusiasm and commitment. Read more about Thompson's career at emry.link/nancythompson.
---
2000s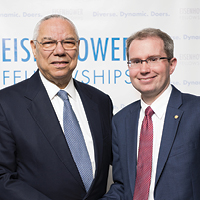 DAVID A. BRAY 01C 04MPH 08 PhD (right) & RET. GEN. COLIN POWELL
LEISE KNOEPP 98C 00MPH is working in urogynecology at the Ochsner Medical Center in New Orleans, La.
NICHELLE WILLIAMS NIX 03MPH is director of the Alabama Governor's Office of Minority Affairs. It is a cabinet-level office, making Alabama only the second state to have such an office. It is the first and only state to have an office that takes a comprehensive approach to focusing on women and minorities. "I am honored to support Governor (Robert) Bentley's efforts to create jobs, improve education, and increase opportunities and access for women and minority communities across the state," she says. "It is my singular mission to help make Alabama a better state for everyone."
Born: JOSEPH H. GALLAGHER V, TO MIA HEMMES GALLAGHER 09 MPH
DAVID A. BRAY 01C 04MPH 08PhD was named a 2016 Young Global Leader by the World Economic Forum.
BORN: A son, Joseph Henry Gallagher V, to MIA HEMMES GALLAGHER 09MPH and her husband Joseph IV (Joe) on Feb. 16, 2016. He is their first child.
---
2010s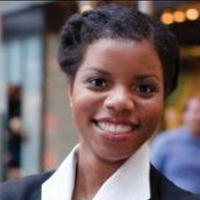 CARMEN PRICE 12MPH
MARINA FERNANDEZ-ROMAGNOLI 10MPH and her husband Pablo A. Romagnoli 11PhD have accepted positions at the Instituto Universitario de Cordoba in Argentina as instructors in the new School of Medicine.
LT. JAMES D. GOOCH 11MPH is a health assessor in Region 4 for the Agency for Toxic Substances and Disease Registry.
MARRIED: LAUREN E. OWENS 14MPH and Evan Valentine
CARMEN PRICE 12MPH is the senior project lead at Global Healthcare Solutions, part of Boston Scientific.
ELISA STORYK 13MPH is working as a clinical research coordinator at Emory's Winship Cancer Institute on the multiple myeloma team.
NIDHI BADIYANI 14MPH is a tobacco control specialist at a nonprofit organization called "Breathe California." She writes that they conduct programs to promote smoke-free environments.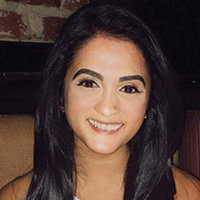 PRIYA GUPTA 15MPH
MARRIED: LAUREN E. OWENS 14MPH and Evan Valentine in May, 2015, in Rockville, Md.
PRIYA GUPTA 15MPH published an article in Nutrients titled "Iron, Anemia, and Iron Deficiency Anemia Among Young Children in the United States." Iron deficiency and anemia are associated with impaired neurocognitive development and immune function in young children. This analysis describes the prevalence among children ages 1-5 years based on data from the 2007-2010 National Health and Nutrition Examination Survey.