In Memoriam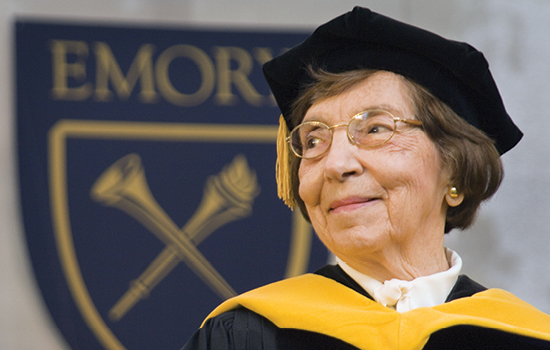 Goodbye to a good friend
BEVERLY B. LONG, a member of the Rollins Dean's Council, died on Oct. 30, 2015, surrounded by her family. Long was one of the world's leading advocates on behalf of mental health and the rights of persons with mental illness. She served as president of the World Federation for Mental Health; president of the National Mental Health Association (NMHA) of Atlanta and Georgia; and chair of the first Georgia Governor's Advisory Council on Mental Health, Mental Retardation, and Substance Abuse, 1975 to 1978.She was appointed by President Jimmy Carter to the 1977/1978 President's Commission on Public Health. Long served on countless boards and councils advocating prevention of mental and behavioral disorders. She provided inspiration and support for the Rosalynn Carter Endowed Chair for Mental Health at Rollins.
---
| | |
| --- | --- |
|   | |
MARION PIERCE MEADOR 91MPH of Stone Mountain, Ga., on Aug. 30, 2015, at 88. A valedictorian of Stone Mountain High, she took a job in the 1950s as a secretary at the CDC in order to raise her three children alone. She went to night school to finish her BS at Georgia State University and later her MPH at Emory. She worked at the CDC for 30 years, becoming a research statistician and co-author on several epidemiological studies. She devised and implemented a new system for reporting tuberculosis. It produced more timely and detailed information to more effectively track cases and prevent transmission. It was used during the AIDS epidemic and is a standard at the CDC today.
A lifelong Democrat and baseball fan, she raised her children to work hard and be tolerant. They survive her, including Kimford J. Meador MD, Darlene M. Meador-Osborn PhD, and Keith A. Meador JD. Other survivors are seven grandchildren and one great-grandchild.
---
DON A. FRANCO 85MPH of West Palm Beach, Fla., on Jan. 31, 2015, at 83, after battling cancer. The eldest of 11 children, he was born on the Caribbean island of Trinidad. He trained as a veterinarian in Ontario, Canada, and in the Phillipines and had a veterinary practice in Trinidad. He came to the United States to work for the U.S. Department of Agriculture, Food Safety and Inspection. He authored many books about veterinary science and animal pathology. After earning his MPH at Emory, he published on the plight of poverty and public health needs in third-world countries. Survivors include his wife of 54 years, Jovita, one son, two daughters, and nine grandchildren.
---
| | |
| --- | --- |
|   | |
JAMES BODE WEAVER III 08MPH of Atlanta, unexpectedly, on Sept. 16, 2015. His first career was in journalism and mass communications, having earned an MA from the University of Georgia and a doctorate in Mass Communications from Indiana University. As a professor, he taught at several universities, including Georgia, Emory, Virginia Tech, and Auburn. As a broadcaster, he worked as a DJ, earned an Emmy for news reporting, and produced several of John Mellancamp's videos. He joined CDC in 2007, shortly after going back to school to earn his MPH at Emory. In 2009, he was awarded the Outstanding Health Martketing Scientist of the Year. A sportsman, he was a multi-event Iron Butt Rider who set the standard for long distance riding and contributed regularly to Iron Butt magazine. A family man, he would work on the family farm, Beaver Creek, on weekends and never missed the kids' games and activities. Survivors include his father, Dr. J. B. Weaver, Jr., his wife Dr. Stephanie Sargent Weaver, one daughter, three sons, and four grandchildren.
---
EILEEN MARY MILES 96C 00MPH of Asheville, N.C. on July 4, 2015, at 66. She was previously of Lawrenceville and Marietta, Ga. She and her husband of 45 years, Philip, moved to Asheville after she retired. She had a career in public health research. In addition to her husband, survivors include a son, a daughter, three brothers, four sisters, and three grandchildren.