Like mother, like daughter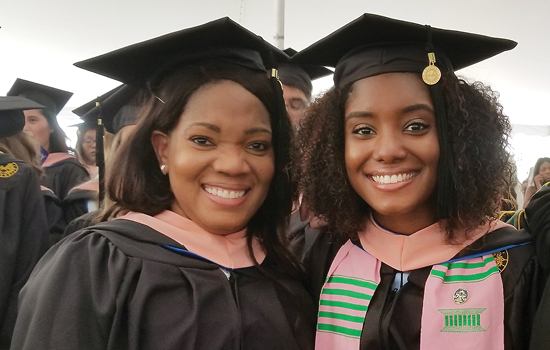 At the Rollins commencement ceremony in May, a mother and daughter accepted their MPH degrees at the same time. Dr. Karen Andrea Armstrong 17MPH (above left) and her daughter, Shenelle Alyssa Armstrong 18MPH (above right), walked on to the stage within minutes of each other and left it together.
"It was quite an experience," says Karen.
The journey began years ago, when Karen was working for Emory's school of nursing as a research coordinator. She had previously sent middle-school-aged Shenelle to a summer camp on the Emory campus, and the youngster decided then and there she wanted to go to Emory. Several years later, she did, earning a degree in neuroscience and behavioral biology.
Karen moved to the school of medicine as research director and later decided she wanted to broaden her research expertise. So when Shenelle started her senior year at Emory, Karen started her MPH in epidemiology at Rollins.
After graduation, Shenelle decided to follow in her mother's footsteps, although she chose the department of health policy and management. Last August they realized that Karen would finish her degree in December and Shenelle would finish hers in May, which meant they could walk together.
"At first, Mom said she didn't want to walk with me because she didn't want to steal my spotlight," says Shenelle. "But I said, 'Mom, this is your spotlight too!'"