The man is nonstop
As the new chair of epidemiology, Dr. Tim Lash has big plans for the department.
By Martha McKenzie | Photograpy by Stephen Nowland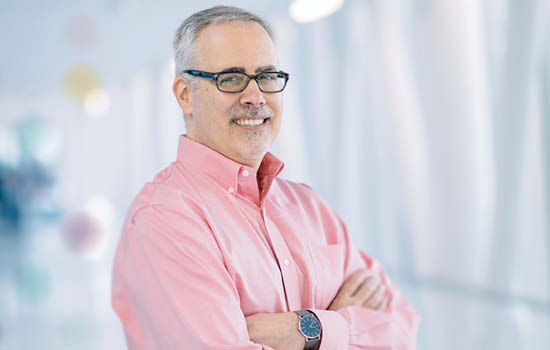 Sitting in his well-ordered office, Dr. Timothy L. Lash comes across as contemplative and deliberate, measuring his words and expressions. He meticulously schedules his day.
The calm exterior, however, belies a tremendous amount of energy humming beneath the surface. Since joining the epidemiology department nearly six years ago as a professor, Lash has expanded a robust research portfolio in his field of cancer epidemiology, assumed various leadership roles in his department, and taken the helm of the Cancer Prevention and Control program, which coordinates and promotes all of the cancer prevention and control-related research activities at Winship Cancer Institute. In addition, he edits one of the field's leading journals, Epidemiology, and is editor and co-author of two textbooks. And in July, Lash took on another role— Rollins Professor and Chair of the Department of Epidemiology.
So when does he plan to sleep? "When I retire," he says.
Lash succeeds Dr. Viola Vaccarino, who will stay on in the department as the Wilton Looney Professor of Cardiovascular Research. He was chosen to lead the department after a nationwide search, which speaks well of the depth of the department's bench. "We are fortunate to have Tim's expertise and leadership," says Rollins Dean James Curran. "I feel confident in his ability to advance Rollins' research and education efforts and reputation on a global level."
Plans for the department
Advancing the department is just what Lash plans to do. "I believe we are already in the top 10 of internationally ranked departments of epidemiology, and it's very difficult to break into the top five," says Lash. "But that is absolutely my vision."
To do that, he is focusing on continuing to improve the department's curriculum and collaboration. He has a jump on the former since he participated on the department's curriculum committee, led by Roberd Bostick, professor of epidemiology, for several years. He has already helped innovate in areas, says Vaccarino, such as a closer coordination between epidemiology and biostatistics training. Though there are many parallels, the two subjects have been taught independently with too little communication or cross-fertilization. Lash and the curriculum committee pushed to better integrate the disciplines so students learn the basic concepts of each at the same time and see how they are related.
To further his work on the curriculum, Lash plans to talk with employers—state and local public health departments, the Centers for Disease Control and Prevention, businesses—to better understand what skills each sector values from MPH and doctoral graduates and then make sure the department is teaching those skills. He is also adding soft skills to the offerings, such as negotiating, influencing, compromising, and leading. Soft skills are now routinely taught in business, law, and even medical schools, but public health schools typically have not embraced the trend. "We want our graduates to come out of this school and be influential," says Lash. "Having the knowledge and skills is critical, but if you can't get the ideas across, it won't get you over the line."
On the research side, Lash would like to increase collaboration, within the department, within the school, and within the university. To help in that area, he plans to reorient the department's internal communication to focus on what researchers are planning to do versus what they have already done. "I've seen the usefulness of this mindset in my work with Winship," says Lash. "One of my roles as a program leader there is to recognize when people could be working together.
---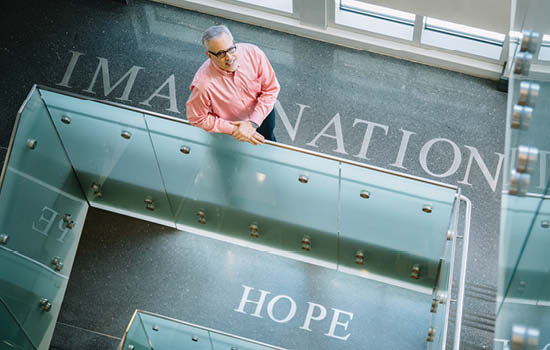 Timothy L. Lash will continue his research, which focuses on identifying biomarkers that could be used to predict cancer recurrence. He is pictured here at Winship Cancer Institute, where he leads the Cancer Prevention and Control program.
---
Cancer recurrence research
In his research, Lash has long focused on identifying molecular biomarkers that could be used to predict cancer recurrence. He and his colleagues have developed large biobanks of tumor tissues from cancer patients, and connected these to clinical outcomes including cancer recurrence.
Most recently, he has extended his interest to finding biomarkers to predict a late recurrence of cancer. In these studies, as in his previous ones, Lash is working closely with colleagues in Denmark at Aarhus University, where he is an honorary professor in cancer epidemiology and where he worked for two years on the faculty.
"Something like 20 percent of breast cancer recurrences happen 10 years or more after the original diagnosis, yet it is an understudied area," says Lash. "Other cancers, such as melanoma, prostate, and renal cell carcinoma, have a similar pattern of lifelong risk of recurrence. We would like to see if there are genetic or protein patterns that can be identified that would be predictive of this type of late recurrence."
This latest study falls under an umbrella Lash created called ProBe CaRe—Predictors of Breast Cancer Recurrence—which brings together researchers from all over the world with similar interests into a loose consortium. The group meets every three years to discuss findings, form collaborations, and plan future areas of interest.
For example, scientists affiliated with ProBe CaRe have been thought leaders in demonstrating that statins, which are cardiovascular drugs, may reduce the risk of breast cancer recurrence. "People in our group have really moved this forward, and now we need a clinical trial, which we are trying to find a way to do," says Lash. "Statins are very cheap and don't need to be refrigerated, so they have the potential to be a huge benefit to women with breast cancer in under-resourced countries.
Lash also has an interest in disparities in the quality of cancer care, especially age-related disparities in the quality of care. Older cancer patients who receive less than guideline care sometimes die of cancer that could have been successfully treated, which his research over the last decade has documented.
Journal editor
Lash edits Epidemiology, an official journal of the International Society for Environmental Epidemiology. The journal, which is published six times a year, gets around 1,000 submissions a year, and Lash is the first person to read each one. He accepts only about 20 percent, sending some of these to other editors and editing some himself. It's a time-consuming endeavor, but one he values. "The journal has an influence on the way epidemiology is practiced, so I want to be a part of that," he says.
Lash was instrumental in launching a sister journal, Environmental Epidemiology. "We consistently receive more good environmental epidemiology papers than we can print, so I pushed the publisher to launch a second journal," he says. "It's now in its second year."
Path to public health
Lash was drawn to public health by his interest in epidemiology rather than the other way around. After getting a degree in molecular biology from Massachusetts Institute of Technology, he worked for an environmental health consulting company. While he was there he was introduced to epidemiology, and the more the learned about the discipline, the more he was intrigued.
"It appears quite easy, but it's actually extremely difficult to design and analyze a high-quality study and make reasonable inferences from the results," says Lash. "It's like those puzzles that have only nine pieces that look so easy but are practically impossible to solve."
He was still working full-time at the consulting company when he earned his MPH in environmental health and epidemiology and completed his coursework for his DSc in epidemiology from Boston University.
"I think we've done a lot since I've been chair, doubling the size of our department," says Vaccarino. "But eight years is a long time, and I feel like it's time for fresh ideas. I'm looking forward to seeing what comes next."
Read More
"Tim Lash named chair of the Department of Epidemiology" (5/4/18)
---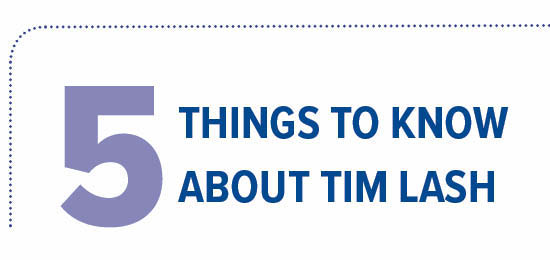 1 | His partner, Dr. Maria Mirabelli, got her MPH at Rollins in environmental health in 1998. She is an environmental epidemiologist at the National Center for Environmental Health at the CDC working on air pollution and respiratory health. She is also an adjunct professor in environmental health.
2 | He plays bass guitar in a small rock band called Toasted Oak.
3 | He is a past president of the Society for Epidemiological Research.
4 | He is chair of the Cancer, Heart, Sleep Epidemiology, Panel B study section at NIH's Center for Scientific Review.
5 | He was born and raised in Canton, Ohio and enjoys visiting his three sisters and their families in Northeast Ohio.