Flu pandemic preparedness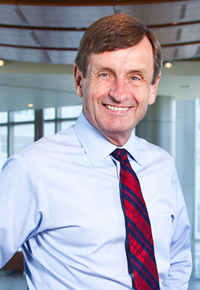 I've spent half my life worrying about a formidable virus—HIV. But I have come to believe influenza is the most challenging virus we see in the world today. So it is fitting that on the 100th anniversary of the 1918 flu pandemic, our school and the CDC hosted a conference that brought together experts from academia and the government to discuss flu pandemic threats and preparedness. Organized by Dr. Carlos del Rio, Hubert Professor and chair of the Hubert Department of Global Health, the conference drew a capacity crowd, including more than 1,000 online viewers. In this issue, we look at many of the issues discussed in this important conference as well as detail specific work by Rollins researchers regarding flu and vulnerable populations.
The #MeToo movement recently has been shining the spotlight on sexual assault and other obstacles women encounter in their personal and professional lives. Dr. Kathryn Yount, the Asa Griggs Candler Chair of Global Health, has been ahead of the game, studying these issues for more than two decades. She founded and directs an initiative that brings together researchers from around the globe with the goal of advancing research, scholarship, and social change around women's and girls' empowerment. Read about some specific projects of Global Research for Women beginning on page 19.
In this issue we also welcome a new department chair. Dr. Timothy L. Lash, Rollins Professor and Chair of the Department of Epidemiology, came from our own faculty, joining Rollins five years ago. He is a renowned cancer epidemiologist and has big plans for the department. Tim replaces Dr. Viola Vaccarino, Wilton Looney Chair of Cardiovascular Research, who will stay on and focus her time on her research and teaching. I want to thank Viola for her leadership during the past eight years.
Finally, please join me in congratulating Dr. Kathy Miner for winning the 2018 Charles R. Hatcher, Jr. Award for Excellence in Public Health. Kathy is cutting back to part time after a more than 40-year career in which she made incalculable contributions to our school and to the field of public health. Her legacy is firmly imprinted at Rollins.
James W. Curran, MD, MPH
James W. Curran Dean of Public Health