Fighting AIDS in the South
New initiative takes aim at health disparities
By Martha McKenzie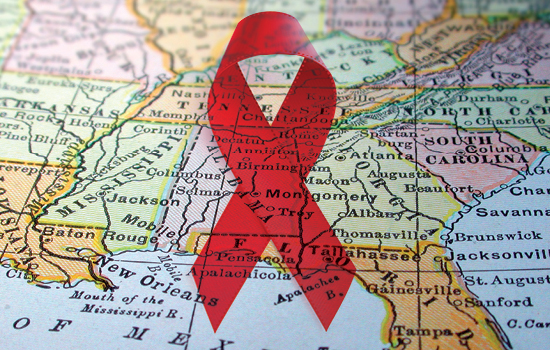 Despite advances in treatment and prevention that have transformed AIDS from a death sentence into a manageable chronic disease, the epidemic is raging in the South. Although the region has only about a third of the nation's population, it accounts for about half of its new HIV diagnoses and half of its AIDS-related deaths, according to the Centers for Disease Control and Prevention. Fewer HIV-positive people in the South are aware of their status than in other areas of the country.
Gilead Sciences, which makes HIV medications, has selected Rollins as a coordinating center as part of a new 10-year, $100 million initiative to combat the epidemic in the South. The COMPASS Initiative (Commitment to Partnership in Addressing HIV/AIDS in the Southern States) aims to build capacity among underfunded community-based organizations in the region, to support groups that provide care to those in need, and to fund awareness, education, and anti-stigma campaigns that will make it easier for people to access prevention and treatment.
In other words, COMPASS is targeting the factors that fuel the epidemic in the South—factors that have more to do with social determinants of health than with sexual practices. The high rates of HIV/AIDS are largely confined to a few groups—young, black, and Latino men who have sex with men and black and transgender women.
These people don't have more partners or indulge in riskier sexual behaviors than their white counterparts. They are just more disadvantaged. They often lack insurance. They may not have transportation, so getting to a clinic can be a challenge. And, due to the stigma associated with their sexual orientation or HIV status, many don't have a support system of family and friends.
Curbing the HIV epidemic in this disenfranchised population will require more than developing better treatments and drugs. It will take figuring out how to make existing therapies and prevention efforts available in a way this group can actually use.
Which is exactly the goal of COMPASS. As part of this initiative, Rollins faculty and staff will map existing service providers and areas of need across the South to identify "service deserts." They then will help strengthen local organizations in these areas by directing resources to them and working to make them more efficient and sustainable.
"There are a lot of smaller organizations, like faith groups, local community-based organizations, and clinics that have strong connections in the community, but they may not have the resources to compete for certain grants or have access to the latest training and technology," says Neena Smith-Bankhead, a Rollins program director. "Our goal is to work with those organizations to build their capacity to better serve and care for those with HIV in their own communities."
The Emory COMPASS Coordinating Center also plans to develop an online information portal that community organizations can use to share best practices, knowledge, tools, resources, and information with the public. Two other institutions will operate coordinating centers as part of the COMPASS initiative. The University of Houston Graduate College of Social Work will work to incorporate attention on the role of trauma, mental health, and substance use in HIV care. The Southern AIDS Coalition will develop and support education and advocacy efforts to address HIV-related stigma, discrimination, and health inequities.
"We now have all the tools we need to stop AIDS," says Dr. Patrick Sullivan, Charles Howard Candler Professor of Epidemiology. "We have drugs that can help people become nontransmissible. We have another set of drugs that can protect people who are HIV negative from infection. We need to recapture a sense of imagination and excitement about what is possible."
Related Article
"Rollins researchers selected as partners in 10-year Gilead HIV/AIDS COMPASS Initiative" (Press Release, 12/7/17)