Rising to the challenge
Research center studies reproductive health in the Southeast
By Martha McKenzie | Illustration by Neil Webb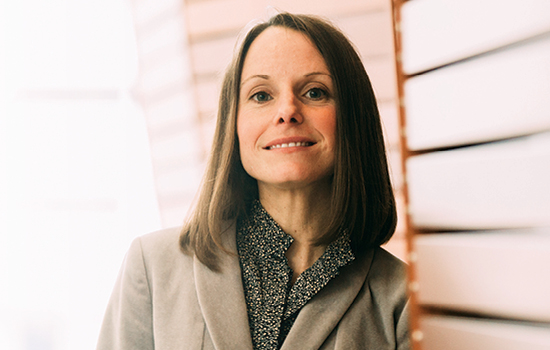 The past few years have seen a plethora of public health policies focused on family planning and reproductive health services—services that include access to contraceptives, pregnancy testing, abortion, screening for sexually transmitted diseases, and more. Last year alone, nearly 130 state policies related to reproductive health were enacted in the U.S., according to the Guttmacher Institute. Many of these policies were enacted without previous knowledge of how they might impact women and their families because of a lack of rigorous scientific evaluation. This is true especially in the Southeastern U.S.
Rollins' newly established Center for Reproductive Health Research in the SouthEast (RISE) is poised to improve this information gap. Led by Dr. Kelli Stidham Hall (pictured above), the center's research will focus on the family planning and reproductive health landscape in the region, particularly on assessing the impact of policies on access to health care and health outcomes among minority, poor, rural, and other populations.
The topic is complex, requiring many different lenses. Accordingly, the team Hall has assembled for RISE is multidisciplinary, with researchers from Rollins, Emory's schools of medicine, nursing, and law, and three other universities.
"One of the reasons Emory is such a good fit for this type of research center is its strong history of cross-school, cross-disciplinary, and cross-institution collaboration," says Hall, assistant professor of behavioral sciences and health education. "In Rollins and the school of medicine, Emory has a robust history in maternal, child, and reproductive health research and public health and clinical practice. And, of course, it's situated in the hub of the Southeast."
The family planning picture

Nearly half of all pregnancies in the United States each year—almost 3 million —are unintended.

129 state-level sexual and reproductive health policies were enacted in 2017.

U.S. women use contraceptives for an average of 30 years to attain their family planning goal of two children.

75% of abortion patients in 2014 were poor or low-income.

* Source: Guttmacher Institute

 
Hall is well suited to lead the team. "Over the past 10 years, Kelli has built an impressive portfolio of research to characterize the social determinants of reproductive health, including family planning service needs and the potential of federal and state policies and programs to address these needs," says Dr. Colleen McBride, Grace Crum Rollins Professor and chair of Behavioral Sciences and Health Education. "And she brings her in-the-trenches experiences as a nurse practitioner to her research, which makes her an ideal fit to lead the RISE center."
One of the key projects of the new center involves public funding streams for reproductive health services, including Title X. The Title X grant program provides federal funds for comprehensive family planning and health services for low-income, underinsured, and uninsured individuals, mostly women. Services supported by Title X funds include contraceptive services, pregnancy testing, pelvic exams, screening for cervical and breast cancer, and screening for sexually transmitted diseases, including HIV/AIDS.
Unlike most states, Georgia has had two different agencies receive Title X funds. Historically Title X funds flowed to the Georgia Department of Public Health, which then distributed money to health department clinics around the state. For the past three years, the funding has gone to the Georgia Family Planning System—a collaboration between federally qualified community health centers, Grady Health System, and private physician offices across the state.
"Georgia is unique in that there is more than one model of publicly funded services, so that gives us a natural opportunity to rigorously evaluate different models of funding and care," says Hall. "We will conduct a mixed-methods case study of both process and outcomes designed to provide a greater understanding of publicly funded reproductive health services—its strengths and gaps. Ultimately, this work could inform efforts for improving reproductive health care access and outcomes for women and men across the state and the U.S."
RISE's charter not only gives emphasis to research but also to education and translation. Specifically, RISE aims to help develop a cadre of reproductive health and family planning scientists who plan to stay, study, and eventually build research programs in the region. Each year, the center will offer stipend support for two PhD students and two postdoctoral research fellows who will work closely with RISE investigators as well as pursue their own research projects.
Halley Riley, a third-year PhD student in behavioral sciences and health education, is the first to receive the RISE funding. She is working with RISE scientists on one of the research projects and plans to do her dissertation around contraception access. "The work being done at RISE is so timely and so needed in the Southeast," she says. "It's exciting to be a part of it, and it's a leg up on my career."
Making sure that scientific evidence has a positive impact is the goal of research translation. This can take the form of changes in policies, models of service delivery, and social and cultural support for reproductive health and justice for women and their families in the region.
"In conversations with communities here, we are thinking through how to design the most rigorous, timely, and relevant research studies," says Hall. "We want to better understand the issues that women face in the Southeast, craft studies around those issues, and share the findings with those professionals working on the ground in order to create social and policy change."
In this mission, RISE will be filling a void. "RISE will be bringing badly needed scientific rigor to the field," says Dr. Roger Rochat, a global health professor and director of the Global Elimination of Maternal Mortality from Abortion program. "I've been working in this area for decades, but so much of my work has been descriptive. The RISE center will be doing very analytic, rigorous research to produce definitive, persuasive data that can inform legislators. This type of research can make a difference."
Related Article
"RISE research center receives $6.8M to pursue reproductive health research in Southeast" (Press Release, 9/14/17)