Rollins Foundation pledges a gift toward a third building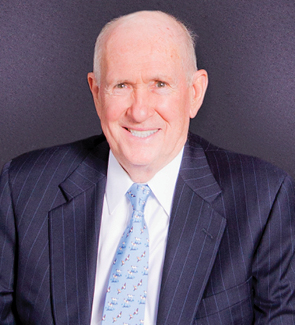 The O. Wayne Rollins Foundation pledged $65 million toward construction of a third Rollins building on the Emory campus. To be named the R. Randall Rollins Building, the new 11-story facility will be adjacent to the existing Rollins buildings. Groundbreaking is tentatively planned for 2020, with completion slated for 2022.
"The Rollins family continues to demonstrate an extraordinary commitment to the health of global communities," says Claire E. Sterk, president of Emory University. "This new investment is a gift for the future that will have worldwide reach. It will propel the faculty, staff, and students of Rollins to new levels of leadership and service for the greater good. We are truly grateful for the Rollins family's partnership with Emory."
The O. Wayne Rollins Foundation's long history of support of Rollins includes the construction of the Grace Crum Rollins and the Claudia Nance Rollins buildings, opened in 1994 and 2010 respectively. The buildings house six academic departments, more than 20 centers, and 200 faculty members. The new building will increase the number of classrooms and faculty offices and will include state-of-the-art conferencing and distance-learning space. R. Randall Rollins is a trustee of The O. Wayne Rollins Foundation and chairman of the board of Rollins, Inc.; RPC, Inc.; and Marine Products Corporation. He is the son of O. Wayne and Grace Crum Rollins and grandson of Claudia Nance Rollins.
"The facilities we have built thanks to the Rollins family are widely considered to be among the very best at any school of public health in the world and have proven critical in our ability to attract world-renowned scholars, students, and research to our campus," says Dean James Curran. "This new commitment will enable us to continue that path forward in order to fulfill the university's mission of serving humanity through research and education."
In addition to the school, the Rollins Foundation actively supports programs in Emory School of Medicine and Candler School of Theology. The foundation was instrumental in construction of the six-story O. Wayne Rollins Research Center and Candler's Rita Ann Rollins buildings.
Related Link
"Rollins Foundation gift to Emory advances public health" (2/13/19)