Message from the Dean
Unwavering support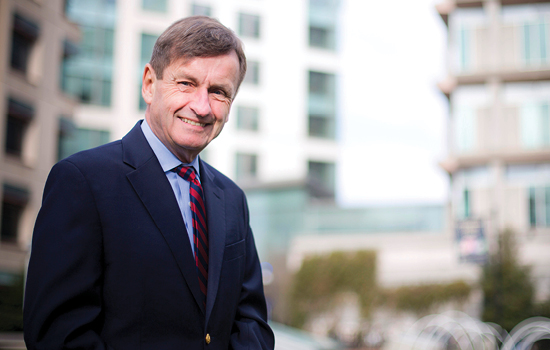 Here at the Rollins School of Public Health, we have much to celebrate. I am pleased to announce the extraordinary $65 million gift from the O. Wayne Rollins Foundation, which will enable us to build the R. Randall Rollins Building (see here). We are deeply grateful to the Rollins family for their continued contributions. Their unwavering belief in our school has propelled Rollins to international prominence.
Emory President and Rollins faculty member, Dr. Claire E. Sterk, has been elected to the 2018 class of the National Academy of Medicine, one of the highest honors bestowed upon members of the academy. Longtime friend and philanthropist, Richard Hubert, has been awarded the university's highest alumni honor, the Emory Medal. Their support of our school has been instrumental to our success.
Elsewhere in this issue, we highlight the work of Rollins faculty, students, and alumni at home and around the globe in the areas of maternal and child health, HIV/AIDS, cancer, mental health, diabetes, and WASH (water, sanitation and hygiene). Their efforts exemplify our mission of promoting health and preventing disease—locally, nationally, and globally.
I am writing this on the day we announced that the latest U. S. News &World Report ranked the Rollins School of Public Health No. 5 among the nation's 177 accredited schools and programs of public health. In other accolades, Rollins ranks sixth nationwide in National Institutes of Health research funding, reflecting the commitment and excellence of our faculty.
Each of you has played a role in these successes. Your dedication to public health and your investment in our mission have made all the difference, and I am deeply grateful.
James W. Curran, MD, MPH
James W. Curran Dean of Public Health