Not lost in translation
The science of getting discoveries into the field
By Martha McKenzie | Illustration by Stephanie Dalton Cowan
Scientists are great at making discoveries, but getting those discoveries put to use in the real world is another issue. It takes an average of 17 years for evidence-based practices to be incorporated into routine general practice in health care, and only about half of evidence-based practices ever reach widespread usage.
---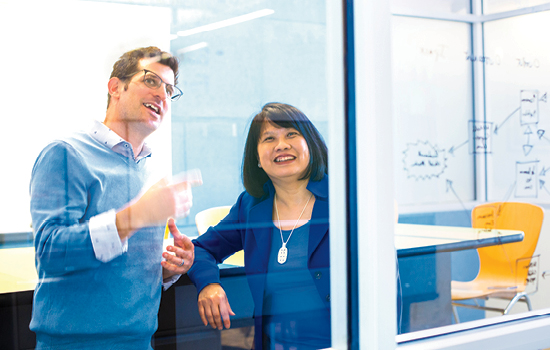 Matthew Freeman and Cam Escoffery are working to boost implementation science research at Rollins.
---
So how do you get what scientists know into the field? That is where the burgeoning field of implementation science comes in. It's the study of how to take, in the case of public health, evidence-based interventions and apply them across a wide range of settings, making sure they are effectively scaled and sustained within the local context.
"Implementation science addresses the gap between what we know we should do and what we can actually do on the ground," says Dr. Cam Escoffery, professor of behavioral, social, and health education sciences. "It takes a lot of different perspectives into account. We're not just looking for a health outcome. We're looking at that, along with how many people are impacted, how acceptable is the intervention to providers and to users, what does it cost, and is it sustainable?"
Taking a discovery into the field is nothing new—it is the very backbone of public health. But the way in which this journey is made has become more evidence-based. "Implementation science can be seen as a repackaging of things we already do as public health professionals, but it applies structured methods to move knowledge to practice," says Dr. Matthew Freeman, associate professor of environmental health. "It applies the same scientific rigor that goes into making the original discoveries to implementing those discoveries in the field."
---
Jessica Sales is trying to overcome barriers women encounter in accessing PrEP.
---
Women need PrEP too
Pre-exposure prophylaxis (PrEP), the drug that prevents a person from getting HIV, is a good example of the issues surrounding implementation science. Taking the medication can virtually eliminate the risk of contracting HIV from having sex with an HIV-positive person, and as such, it has the potential of saving thousands of lives. Yet, only 35 percent of high-risk gay and bisexual men take PrEP, and that number falls to 26 percent in the black community, according to the Centers for Disease Control and Prevention. Usage is even lower in women, even though each year they account for about 20 percent of all new HIV diagnoses.
In researching ways to get this proven intervention into the hands of women at the epicenter of the current HIV epidemic, the Southern US, Drs. Jessica Sales and Anandi Sheth are looking at care providers and patients. Many underinsured or uninsured women rely on Title X family planning clinics for all their sexual health care needs, which would make these clinics ideal PrEP delivery sites. But they're not. In their research, Sales, associate professor of behavioral, social, and health education sciences, and Sheth, associate professor of medicine in the infectious disease program, found many Title X providers are either unfamiliar with PrEP or feel they don't have the training to safely, effectively prescribe and monitor it. They also found women at high risk for HIV who go to Title X clinics either don't know about PrEP or think it is only meant for men, so they don't ask for it.
To tackle the provider side, Sales and her team are doing focus groups with Title X clinics across metro Atlanta to identify the types of resources and training they would need to start prescribing PrEP and how they could fit it into their workflow. They then plan to take what they learn to develop a training and technical assistance package for use by Georgia Family Planning System, Georgia's Title X grantee, to support PrEP implementation in their network of Title X clinics.
To reach high-risk women, Sales is working with Sister Love, the oldest women-centered HIV and sexual and reproductive justice advocacy organization in the Southeastern US. They are developing a grassroots community awareness campaign to improve knowledge about PrEP among women across metro Atlanta. By involving and training community members about HIV and PrEP, they hope to tap into the power of informal networks of communication where women gather to start a dialogue around HIV testing and PrEP. "We are working to build a base of knowledge in spaces where women go and live their lives," says Sales. "When the message is being delivered by a neighbor, people tend to be more accepting and open."
---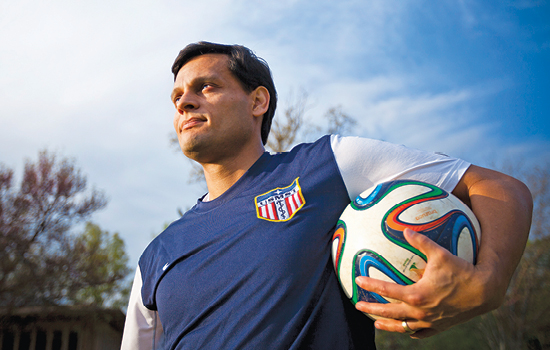 Felipe Lobelo has shown that team sports like soccer can effectively reach populations at risk for diabetes.
---
In league with diabetes prevention
The Georgia Center for Diabetes Translation Research was established at Rollins for the express purpose of translating proven interventions into the field, particularly among at-risk populations in the state. The center is a collaboration among Emory (Rollins as well as the schools of medicine, nursing, and business), Georgia Institute of Technology, and Morehouse School of Medicine.
"We have tremendous evidence about diabetes prevention and management," says K.M. Venkat Narayan, the principal investigator of the center. "We know lifestyle interventions like diet and exercise work. The challenge is how to get people to adopt them."
Dr. Felipe Lobelo believes soccer can help, particularly with Latino men. There are specific population groups that are difficult to engage and, even if they are identified as high risk, often don't participate in diabetes prevention programs. Those groups are the young, minorities, and men. "Of the people who traditionally attend diabetes prevention programs, 80 percent are women and most participants are white and over age 50," says Lobelo, associate professor of global health. "We need to find a way to engage the other groups."
In a six-month pilot study, Lobelo recruited overweight or obese Hispanic men with prediabetes who were between 30 and 57 years old. For the first three months, the men met twice a week for one-hour soccer sessions followed by half-hour facilitated diabetes prevention discussions around eating habits, stress reduction, and activity monitoring. The sessions dropped to once a week for the next three months. The results were promising. Participants lost an average of 13.5 pounds and lowered their blood pressure by an average of eight points. Even more impressively, a whopping 90 percent of participants stuck with the program for the entire six months.
"Soccer seems to hit all the buttons," says Lobelo. "It's fun, it's social, and even though it's more physically taxing than, say, running intervals, the men don't perceive it that way. Beyond the broad improvements in physiologic risk factors, it also proved to be an effective way to get the men to open up to dietary and other lifestyle changes."
Spurred by this success, Lobelo plans to conduct two new studies once the pandemic has passed and it's safe to play sports again. For one, he is partnering with Kaiser Permanente and the NBA to offer a similar intervention that uses basketball to engage 18- to 45-year-old men and women in diabetes prevention. In the other, he is recruiting prostate cancer survivors to see if the soccer intervention can improve bone and cardiometabolic health to counter the side effects of hormone therapy treatment in this clinical group.
From here to there
Implementation science often involves taking a public health intervention that has proven successful in one setting and replicating or adapting it to work in a variety of others. That is what Escoffery and Dr. Ann Mertens, professor of medicine in the medical school, are doing with a study on a survivorship care program for pediatric cancer patients—Cancer SurvivorLink. The program, which was developed and successfully deployed at Children's Healthcare of Atlanta (CHOA), involves a personal electronic health record and education system to promote adherence to follow-up cancer care for child and adolescent cancer survivors.
"SurvivorLink is a tool for families and young adults who have survived pediatric cancer, storing their survivorship care plan, allowing them to share their health documents with other providers, and giving them education about what to do to maintain a cancer-free life and to reduce some of the harms from the cancer or its treatment," says Escoffery.
"The program worked very well at CHOA, so now we need to see if it is scalable to other settings, to discover the best way to deliver the program in different types of centers, and to measure its uptake and effects on improving adherence to follow-up care," she continues.
Escoffery's implementation science expertise, honed through years working in behavioral theories and intervention development, is available to other researchers through a Winship shared resource. The Intervention Development, Dissemination, and Implementation Core is led by Escoffery, Dr. Michelle Kegler, professor of behavioral, social, and health education sciences, and Dr. Colleen McBride, Grace Crum Rollins Chair of the Behavioral, Social, and Health Education Sciences Department. A typical client might be a clinician who would like to roll out an evidence-based guideline on depression screening for cancer patients.
"We know that cancer treatment centers should be asking patients on a regular basis to rate their distress on a scale," says Escoffery. "If they score high enough, they might need a referral to psychosocial intervention. Researchers might want to know how they can get all the different units within a cancer center—which have different staffing, IT, patient flows—to adopt a particular distress screening tool. That's what our core can help them do."
---
Matthew Freeman and Cam Escoffery
---
Building on strengths
Matthew Freeman has been working to build on these strengths, spurred by interest in the topic across Rollins and the university and the availability of funding. "Funders are recognizing the importance of implementation science to enhance impact," he says. "As important as funding is for new discoveries, if those discoveries never make it into the field, how much use are they?"
Freeman believes Emory can be a global leader in implementation science. He started an implementation science working group within Rollins a few years ago to bring together like-minded scientists and foster collaborations. He recently expanded it across the university, forming the Network for Evaluation and Implementation Sciences.
"A lot of researchers at Emory are developing and testing interventions across domestic and global contexts, but without calling it implementation science or without knowing how to apply the methods and frameworks from the field," says Freeman. "So it is being done, yes, but not as systematically as it could be. It has been a fantastic learning experience for many of us, as we try to pull together research in siloed topical areas and develop methodological strengths in implementation science here at Emory. There is a real opportunity for us to become global leaders in this space."