---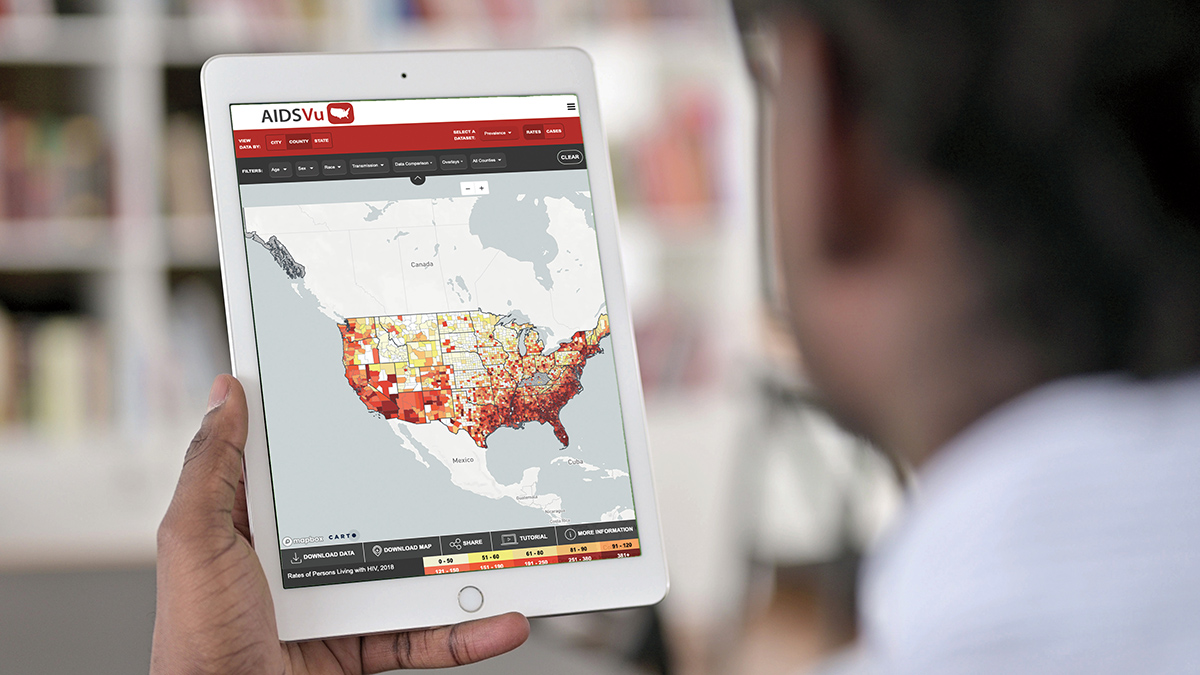 Ten years ago, Dr. Patrick Sullivan and his team unveiled AIDSVu, an interactive online mapping platform to visualize the impact of the HIV epidemic on communities across the US. "It was developed as a way to make many sources of high-quality data about the HIV epidemic available in one spot and present them in easy-to-visualize ways so that you could understand HIV where you live," says Sullivan, the Charles Howard Candler Professor of Epidemiology.
To say AIDSVu was visionary at the time of its launch would be an understatement. "I think you can divide the world into before and after AIDSVu," says Greg Millet, vice president and director of public policy for amfAR (the Foundation for AIDS Research). "I really believe AIDSVu fundamentally transformed the way we are able to view data for the domestic epidemic. It's been instrumental not only for researchers but for policy makers in understanding what's taking place in their own backyards."
In 2013, the AIDSVu website was commended by the White House as an example of a public-private partnership making a difference in improving HIV outcomes. AIDSVu is produced by Emory University with the support and collaboration of Gilead Sciences.
Over the years, Sullivan and his team have added more and more granular data. Today, the site provides data down to the census tract level for some of the largest US cities. Data are available at the county level in 48 US states and at the zip code level in more than 50 US cities. At the county level, AIDSVu maps data on HIV prevalence, new diagnoses, PrEP use, and the PrEP-to-need ratio. At the state level, the site adds HIV mortality, HIV testing, and HIV care-continuum indicator data.
Users are also able to overlay service provider locations—including testing sites, PrEP services, and NIH-funded HIV treatment trial sites—directly onto AIDSVu's maps to illustrate how services are distributed in relation to the burden of HIV. Social determinants of health can be displayed side by side on a secondary map to visualize the relationships between HIV and social factors such as poverty, education level, median household income, and health insurance coverage. 
AIDSVu maps have been used to develop targeting for door-to-door testing campaigns, identify areas of high need for telemedicine HIV care facilities, and identify service gaps for HIV prevention services, among other applications. Funders such as the Elton John AIDS Foundation and the Gilead COMPASS initiative have used data on the burden of HIV diagnoses to prioritize highly impacted areas for grant funding. Academic researchers have used AIDSVu data to justify the selection of study sites in grant proposals.
"AIDSVu has had a huge impact on HIV research and advocacy over the past 10 years," says Raniyah Copeland, president and CEO of Black AIDS Institute. "What AIDSVu does is put data in the hands of communities to be able to inform decisions, advocate, and understand what's actually happening in communities across the country."