New chairs in three departments look to the future
Under new leadership
---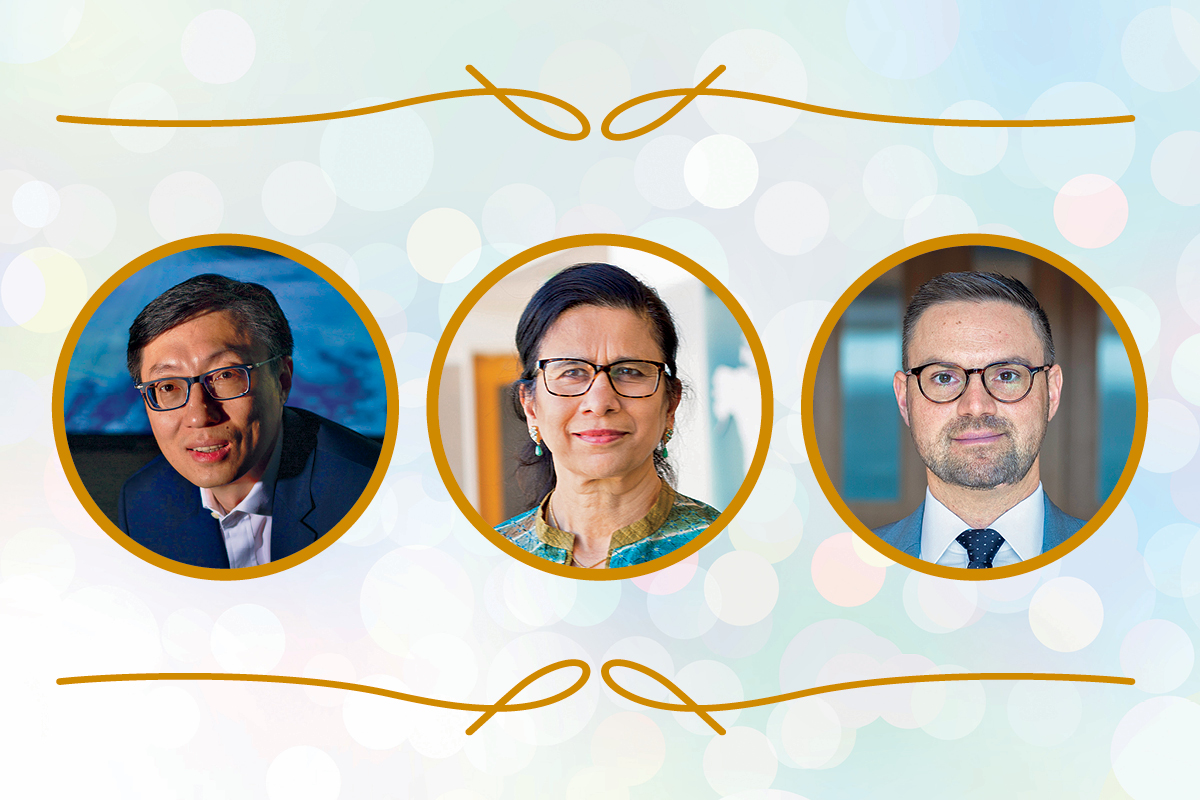 Rollins named three new department chairs in 2020. The fact that, after nationwide searches, two of the new department heads came from within Rollins' own ranks speaks to the depth and breadth of talent within the school, according to Dean James Curran. The third, coming from another institution, has had close professional ties with Rollins for years. Meet our new leaders:
A climate for change
The new chair of the Gangarosa Department of Environmental Health is an expert on the public health impacts of air pollution and global climate change. Dr. Yang Liu joined Rollins in 2009, and his research has included working with National Aeronautics and Space Administration (NASA) to analyze satellite data on air pollution and developing models to assess the health impact of wildfires. As Gangarosa Distinguished Professor and Chair, Liu intends to expand the department's research in two main areas—climate change and data science.  
He has already launched a new certificate program, the certificate in climate and health (see more on page 7). "Research on climate change is a must for any leading environmental health department in the 21st century. It's the most pressing issue we will face in our lifetimes," says Liu. "And the data involved in studying environmental health is becoming more and more massive, requiring a knowledge of data science. We need more faculty and students to be experts in these areas."
Liu's most high-flying work is with NASA. The Emory team he leads is part of a $100 million mission that will use satellite images to study air pollution and its impact on public health. "This is the first time NASA has 'baked' societal benefits and public health applications into a mission's DNA," says Liu. "It's groundbreaking."
A device known as the Multi-Angle Imager for Aerosols (MAIA), scheduled to launch into orbit in 2022, will collect satellite imagery over a dozen global megacities during a three-year period. Liu's team will create the algorithms and statistical models needed to convert that imagery into air pollution composition and concentrations.
In another unique feature, the NASA mission will include a ground component. Advanced air quality monitors will be set up in the cities being scanned by MAIA. They will collect actual data on the ground, which will allow Liu and his team to determine how accurate the algorithms and statistical models are in interpreting the satellite images and then make necessary adjustments. 
"Most monitors measure only the mass concentration of particulate matter," says Liu. "Monitors that can break down the composition of that mass are rare—there are only two such EPA monitors in Atlanta, and they are 30 miles apart and cover 5 million people. By integrating satellite-retrieved particle composition information with ground observations, we will be able to determine a specific area's exposure to specific particle components."
Once scientists gather data on levels and types of pollution in specific areas, epidemiologists will analyze health data in that area. "The innovation here is that they will no longer have to rely solely on the total mass concentration of particulate matter—they'll be able to parse it out to individual compounds," he said. "They may find, for example, that elevated levels of organic carbon are associated with more asthma ED visits, and high concentrations of elemental carbon may be linked to more heart attacks." 
Another area of Liu's interest is the health effects of global climate change, particularly those related to wildland fires. The warming planet is clearly fueling more wildfires, and their impact is exacerbated by the relentless encroachment of neighborhoods into forests. Liu is working to project future wildfire risks in areas small enough to be actionable. It's not an easy task. The global climate models used to predict future global mean temperatures use a grid system, and each unit of the grid is huge. A typical cell is 10,000 square kilometers, or roughly the size of Rhode Island. "You can't make policy decisions based on information that is so crude," says Liu.  
So Liu and his team are nesting models within the global climate models to refine projections. In doing so, they were able to shrink a cell to a manageable 100 square kilometers. 
As department chair, Liu's plans include recruiting more researchers specializing in key environmental health issues such as environmental epidemiology and toxicology, biomarkers and -omics research, WASH, environmental justice, and climate change. He also wants to strengthen the department's expertise in data science. Metabolomics, genomics, and epigenomics all involve massive data that requires artificial intelligence and machine learning to analyze it. Even conventional environmental epidemiology must include data science components these days. 
Liu holds a master of science in mechanical engineering from the University of California at Davis and a PhD in environmental sciences and engineering from Harvard University. He has published more than 200 peer-reviewed articles and serves on the editorial boards of a number of academic journals. Recently, he was selected as a 2020 Georgia Research Alliance Distinguished Investigator. 
Liu succeeds Dr. Paige Tolbert, who retired in March 2020, after serving as chair for 15 years, and Dr. Thomas Clasen, who served as interim chair. Liu is the department's first Asian chair. 
Training global leaders
Dr. Usha Ramakrishnan takes over as Richard N. Hubert Distinguished Professor and Chair of the Hubert Department of Global Health just as a program she's been developing for years is launched. The new Global Health and Development PhD program will be a flagship for the department, says Ramakrishnan. 
"It feels a bit like my baby," she says. "I've been working to establish it for years, and it's finally here. And, I believe, it is unique. There are a few doctoral programs in global health. There are a few doctoral programs in development studies or development economics. But, as far as I know, this is the first program bringing global health and development together."
With the goal of training leaders who can use science to improve public health policy and practice for underserved populations globally, the curriculum is necessarily broad and diverse. Faculty will include members from Rollins, Emory College, and the schools of medicine, nursing, law, and business, as well as partners based at the CDC, The Carter Center, CARE, and the Task Force for Global Health.
The program, which is currently accepting applications, will ground doctoral students in implementation science, ethics, and development economics. "We are building off the success of our MPH program in global health, the university's master's in development practice, and the strength of our experts across the campus," says Ramakrishnan, who has led the university's PhD program in Nutrition and Health Sciences. "My vision is to graduate the first cohort of Global Health and Development PhDs in five years and grow from there."
Ramakrishnan's leadership in both the nutrition and health sciences and the new global health and development doctoral programs earned her the 2020 Marion V. Creekmore Award of Internationalization. Created by the Emory Office of Global Strategies and Initiatives, the award honors a faculty member who excels in the advancement of the university's commitment to internationalization. 
Ramakrishnan has been part of the Rollins faculty since 1994, when she joined as a postdoctoral fellow under the mentorship of Dr. Reynaldo Martorell, a renowned expert in international nutrition. Like her mentor, Ramakrishnan's research has focused on maternal and child nutrition in low-resource countries. 
She recently completed a 10-year study of a prepregnancy nutrition intervention in rural Vietnam. More than 5,000 women of reproductive age who were planning to have a child were recruited and randomized to one of three treatment groups to receive weekly micronutrient supplements containing either several essential vitamins and minerals including iron and folic acid (MM), only iron and folic acid (IFA), or only folic acid (FA) until they conceived. All women who conceived received daily prenatal IFA supplements. Ramakrishnan and her team have successfully followed the children of these women through ages six to seven years. This is one of the first studies of its kind that reported improved birth outcomes among those who received the MM supplements for at least 6 months, followed by improved linear growth by age 2 years, and most recently, improved performance on tests of cognitive function as the children begin primary school.  
In working to implement preconception interventions, Ramakrishnan broadened her scope beyond nutrition. She is involved in helping programs that target women of reproductive age and address the importance of women's empowerment.  
"Age at first pregnancy is an important determinant of outcomes, for example, but you don't change that by giving nutrients," she says. "That requires social change. My work now is at the intersection of nutrition, reproductive health, and human rights to optimize outcomes in the next generation."  
Ramakrishnan earned a PhD in international nutrition, epidemiology, and human nutrition from Cornell University in 1993. She has published more than 170 peer-reviewed articles and several book chapters, many of which relate to her research expertise in maternal and child nutrition. At Rollins, she has served on several departmental- and school-level committees including the Faculty Council and MLK Awards Committee. She is a graduate of the Woodruff Leadership Academy. She is currently a member of the admissions committee for the MD/PhD program, the Emory University Faculty Council, and the COACHE Steering Committee. Ramakrishnan also holds adjunct positions at Sri Ramachandra Institute of Higher Education and Research in Chennai, India, and Instituto Nacional de Salud Pública in Cuernavaca, Mexico.  
Ramakrishnan served as vice chair and interim chair of the department and succeeds Dr. Carlos del Rio, who left the post to become executive associate dean for Emory School of Medicine at Grady Health System. She is the department's first Asian and first female chair.
Solving mental health equations
Dr. Robert Krafty's work aims to better understand and treat mental and behavioral health. His tools—algorithms, statistical models, and machine learning. He uses these to translate the massive data gleaned from MRIs, fMRIs, EEGs, and wearable devices like FitBits into something that can be understood. "My work involves collaborating with teams of clinicians and other scientists," he says. "I do the math that can unlock useful information contained in the data."
The Rollins Distinguished Professor and Chair of the Department of Biostatistics and Bioinformatics, Krafty is nationally recognized in the field of biostatistics. He has tackled sleep problems in older adults who were primary caregivers for their spouse. Seniors in general have trouble getting enough sleep. Compounding the problem, conditions that can interfere with sleep, such as hypertension, diabetes, acid reflux, and restless leg syndrome, tend to increase with age. The tremendous stress associated with being a primary caregiver can make those sleep problems even worse.
Using polysomnography in participants' homes, Krafty's team measured the heart patterns of elderly adult caregivers during their sleep and compared them with seniors who were not caregivers. "We wanted to understand what part of their sleep is disrupted and how can we help correct that," he says.
Krafty was able to decode the massive data collected by the devices and the team found the heart patterns of caregivers indicated they were more aroused and less relaxed during the night of sleep than their non-caregiving counterparts, especially during periods of deep sleep where relaxation is essential to the restorative properties of sleep.
In addition to sleep, Krafty and his team have found that other daily social timekeepers, such as meals and physical activity, are essential to the health of older adults. One group of older adults who are at increased risk for negative health are those who recently lost a spouse. The team developed and is studying an intervention that uses mobile tablets and wearable ActiGraphs to help spousal-bereaved older adults develop and maintain a healthy lifestyle.  
"This is a rewarding study to work on," says Krafty. "Helping to tweak daily patterns can improve a person's quality of life. It's a seemingly small thing, but it can have a big impact, especially for people who are grieving the loss of a spouse."
When Krafty assumed his new post last September, he was no stranger to Rollins or the biostatistics and bioinformatics department. He had followed the work of several of the department's researchers for at least 10 years, and had collaborated with several of them in his own work. "It almost felt like coming home," he says.
The relentless evolution of big data necessarily shapes his plans for the department. "The field changes at such a rapid pace, we have to continually focus on strengthening our faculty expertise in big biomedical data and updating our curriculum for master's and PhD students so that when they graduate, they will have the exact state-of-the-art skills that they need," he says. 
Toward that end, Krafty is looking to recruit faculty members who are experts in machine learning, bioinformatics, and large data in infectious disease and environmental health. He is also working to establish both a new degree and a new certificate program in health data science. 
"The MSPH degree in health data science would train people who are going to be practitioners in data science, such as analyzing electronic health records and using massive data sets to understand causes of poor health,"  he says. "The certificate would allow students in any other degree program to gain some skills and knowledge of data science on top of their current degree. We think that would make graduates very competitive in the job market and enable them to make immediate and impactful contributions."
Krafty came to Rollins from the University of Pittsburgh's Graduate School of Public Health, where he was a tenured faculty member and chair of the biostatistics curriculum. Previously, he was an assistant professor of statistics at Temple University. He holds a master's in mathematics and a PhD in biostatistics from the University of Pennsylvania. Krafty replaces Dr. John Hanfelt, who has served as interim chair of the department from August 2018 through August 2020. 
Share This Story