From the Dean
A secure and shining future
---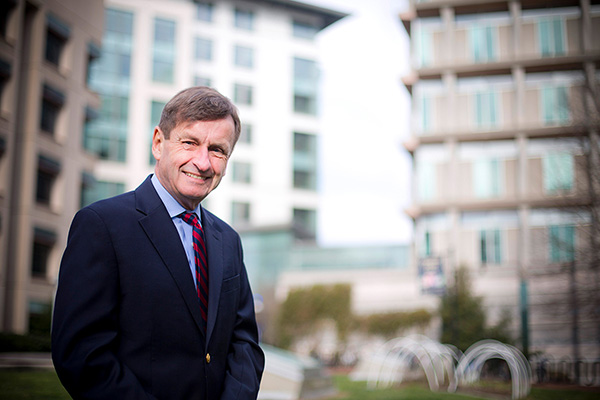 The future of the Rollins School of Public Health is very bright as we welcome Dr. M. Daniele (Dani) Fallin as our dean on July 1.
We all know Dr. Fallin will build upon the school's accomplishments and will help propel us to new heights. 
We have significant milestones to celebrate. On February 1, we announced a landmark $100 million gift from the O. Wayne Rollins Foundation—the largest gift in our school's history. This gift will support faculty and students in perpetuity by strengthening our endowment. These priorities are in line with the Emory 2O36 campaign which was launched publicly last October. Through the generosity of many, many friends, faculty, and alumni, Rollins had secured over $210 million at the mid-point of the eight-year campaign. I want to thank Kathryn H. Graves 93MPH, senior associate dean of advancement and alumni engagement, and her team for their superb efforts in securing transformational support for our school.
Our Center for Global Safe Water, Sanitation, and Hygiene (WASH) is particularly noteworthy as the only academic WASH center headed by a woman. Dr. Christine Moe, Eugene J. Gangarosa Distinguished Professor of Global Safe WASH, leads a distinguished faculty whose research focuses on solving persistent issues of safe water, sanitation, and hygiene. These issues disproportionately affect women and girls, and our center fills a gender gap in the academic world of WASH by focusing on women's roles in solving these issues. 
COVID-19 has touched each of our lives in innumerable ways. While we navigate the challenges of vaccine acceptance, new variants, and increases in the number of cases and deaths, we must also consider the impacts of the COVID-19 pandemic on other critical public health issues. Our experts describe how COVID-19, through the diversion of health care resources and social factors, has affected diagnosis and treatment of conditions including cancer, heart disease, mental health, HIV/AIDS, diabetes, and domestic violence.
As I make plans to join the faculty of the Department of Epidemiology and the Hubert Department of Global Health on July 1, I want to thank you for the privilege of serving as your dean for the past almost 27 years. I look forward to our continued success. 
Share This Story