CELEBRATIONS
Rollins Celebrates its One-of-A-Kind Community With First All-School Awards Ceremony
---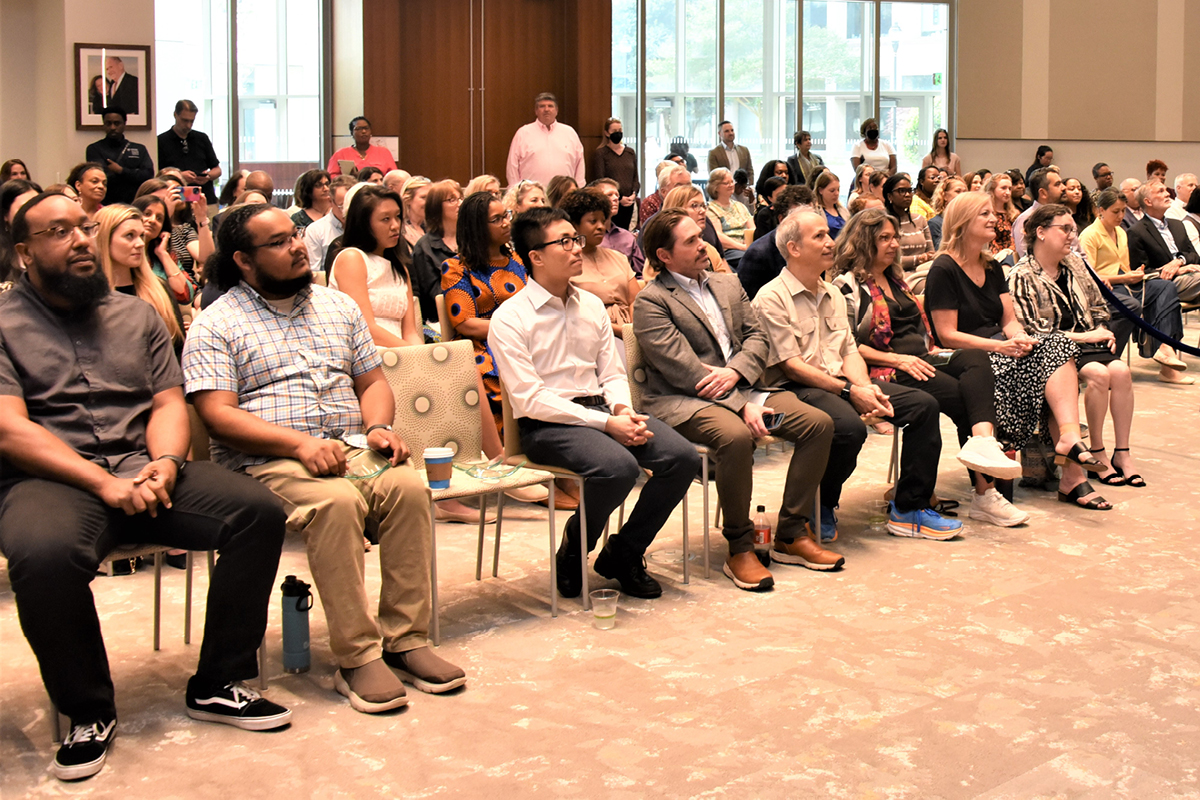 Faculty, staff, and students packed the Margaret H. Rollins Room in late April as Rollins community members convened for the school's first annual RSPH Awards Ceremony. An initiative led by the dean's office, the ceremony was established to bring people together across Rollins, provide a venue for public recognition, and celebrate the community's collective achievements at the end of the academic year.
The room was abuzz with anticipation as friends and colleagues from across the school gathered to celebrate, reconnect, and cheer each other on. Dean M. Daniele Fallin, PhD, kicked off the ceremony with a warm welcome and thank you to all present, noting the collective excellence of everyone at Rollins.
"Before joining Rollins as dean, I kept hearing how incredible the people at Rollins are," said Fallin. "And, after a year as dean, I can confidently say the rumors are true. What an exceptional community we have!"
New Awards Honor Faculty, Staff, and Students
In addition to honoring faculty, staff, and student recipients of longstanding department, university, and organizational awards, the event also introduced a number of newly developed awards as envisioned and led by members of the staff council, research advisory committee, and practice award committee, with a special emphasis on highlighting the contributions of staff.
Newly created school-based awards include these honors:
Early Career Research Excellence Award
Senior Research Excellence Award
Faculty DEI (Diversity, Equity, and Inclusion) Leadership Award
Faculty Practice Award
Dean Surbey Staff Award of Distinction
Award for Excellence in Research or Practice
Staff Excellence Award in Leadership
Staff DEI Leadership Award Innovation Award
Student DEI Leadership Award
A Tribute to the Gangarosa Family
Among the event's highlights was a heartfelt tribute from Deborah McFarland, PhD, associate professor of global health and health policy, recognizing the exceptional legacy of the late Eugene J. Gangarosa, one of the school's founders, and extending a public thank you to his wife Rose and son Raymond, who were in attendance.
Standing Ovation for the Technology Team
The entire room jumped to their feet and gave a standing ovation to this year's Innovation Award winner, which went to the Technology Services Department for their extensive work implementing and supporting the IT infrastructure needs of the entire Rollins community, particularly related to the opening of the R. Randall Rollins Building in fall 2022.
---
2023 RSPH Award Winners
Departmental Teaching Awards
Heather Bradley – Department of Epidemiology
Jeremy Grey – Executive MPH Program
Umed Ibragimov – Department of Behavioral, Social, and Health Education Sciences 
Donghai Liang – Gangarosa Department of Environmental Health
Razieh Nabi – Department of Biostatistics and Bioinformatics
Richard Sanders – Department of Health Policy and Management
Melissa Young – Hubert Department of Global Health
Faculty Practice Award Winners
Moose Alperin and Allison Chamberlain
Thomas F. Sellers Jr., MD, Award for Support of Faculty Colleagues in Public Health
Michele Marcus
Early Career Research Excellence Awards
Donghai Liang and Melissa Young
Senior Research Excellence Award Winners
Tom Clasen and Neel Gandhi 
Award for Excellence in Research or Practice
Shirin Jabbarzadeh
Staff Excellence Award in Leadership
Angie Campbell
Innovation Award
Technology Services Department
Dean Surbey Staff Award of Distinction
Erin Cahill, Eve Rose, Kent Tolleson, and Joanne Williams
Faculty DEI Leadership Award
Whitney Rice
Staff DEI Leadership Award
Rachel Corbett
Student DEI Leadership Award
Stephanie Woodson
Rollins School of Public Health Student Government Professor of the Year Award
José Binongo
Rollins School of Public Health Student Government Staff Member of the Year Award
Noni Bourne and Ruwenne Moodley
Livingston Scholars Fund
Katherine Anderson – Behavioral, Social, and Health Education Sciences
Steph Bellman – Environmental Health Sciences
Melissa Chapnick – Nutrition Health Sciences
Carol Liu – Epidemiology
Sonia Maria Tetlow – Health Services Research and Health Policy
Shiyu Wang – Biostatistics and Bioinformatics
Emory Woman's Club Scholarship
Nicole Stephan
Eugene J. Gangarosa, MD, Student Award for Excellence in International Health
Brian Tolleson 
James W. Alley, MD, Student Award for Outstanding Community Service
Quasheba Allen
Share This Story