A window to health for Mexicans in the Southeast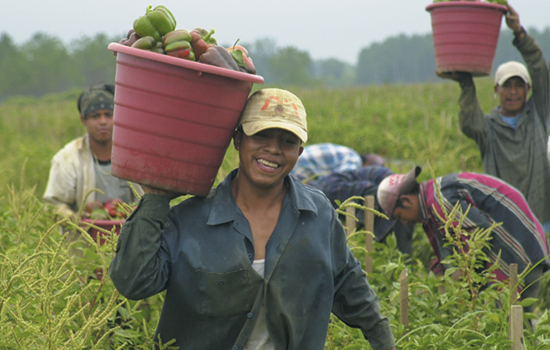 In Georgia, people of Mexican origin comprise two-thirds of the Latino population. The majority of Mexicans who live in the region are working adults aged 20 to 40. Because they are young, most have yet to develop the chronic conditions that plague older adults.
Keeping the young Mexican population healthy is at the heart of a new partnership involving the RSPH and the Consulate General of Mexico in Atlanta.
Rollins faculty, staff, and students are providing consulate visitors with health education and linking them to health services through a program called Ventanilla de Salud (VdS), or Window to Health.
The program has a large audience. On average, more than 1,000 people visit the consulate each week to renew passports and other personal documents. The consulate's mobile unit reaches an additional 1,000 people weekly as it travels to towns in Georgia, Alabama, and Tennessee. The region comprises one of the largest Mexican Consulate jurisdictions in the United States.
This summer, four students from Rollins, the Nell Hodgson Woodruff School of Nursing, and the National Institute of Public Health in Mexico completed practicum experiences at the consulate in Atlanta to provide health education and referrals for clinical services and sources for health insurance.
All worked with VdS program coordinator Brianna Keefe-Oates 13MPH to develop a survey to capture data on consulate visitors. Other students will assist with the survey during this academic year.
"It's a big job," says Karen Andes, VdS director and assistant professor of global health. "We want to collect data to describe this population in comparison with major health surveys in the United States and Mexico."
Results from the VdS survey will be used to compare rates for chronic conditions such as diabetes and cardiovascular disease with other Mexican populations.The survey also will help determine what proportion of Mexican nationals and their families have access to health insurance by immigration status.
As Andes notes, gathering health information on undocumented populations is difficult, in part because people come and go and prefer to stay under the radar regarding their status.
VdS builds on the success of the Latino Health Summit held two years ago at Rollins.
Sponsored by the Hispanic Health Coalition of Georgia, the summit marked the release of the 2012 Georgia Latino Health Report, prepared by Andes and a team of Rollins students that included Keefe-Oates. The report, funded by the Healthcare Georgia Foundation, documented the health status of Georgia Hispanics based on publicly available data. Health data generated by the VdS survey will help expand health reporting to other states in the Southeast.
Andes plans to involve other Emory partners in VdS, including the School of Nursing, which leads a successful program to provide basic health care to migrant farm workers in Moultrie, Georgia, each summer.
"I see VdS as a tremendous opportunity to bring students in the health sciences together to strengthen our capacity to work with the Latino population throughout the Southeastern U.S.," she says.—Pam Auchmutey