Touching the Community
Community engagement is critical to the Rollins experience.
By Martha Mckenzie

Tricia Vannatter 08MPH spent two months in Lucknow, India, on a Global Field Experience trip.
Community engagement is critical to the Rollins experience.
It enriches students' education with hands-on opportunities. It is a necessary ingredient for conducting research here and abroad. But perhaps most important, it connects faculty and students alike with the reason they are in public health in the first place.
From the start, Rollins students are schooled in the importance of community involvement through Rollins-Teer Day. During fall orientation, students, staff, and faculty volunteer at more than 25 charities and organizations in the Atlanta area.
The Student Outbreak and Response Team helps local organizations during health emergencies, such as when members collaborated with the CDC in global mapping during the Ebola epidemic. And students promote health in local, national, and global communities through volunteering, practica, global field experiences, student organization activities, and special projects.
"The one thing that unites everything together—regardless of whether it's doing research, giving students practical experience, or doing actual public health work—is the focus on the community," says Kara Robinson, associate dean of admissions and student affairs. "It's all about building trust and building relationships so we can first understand and then provide what that individual community needs for its health and well-being."
---
Masters International Helps Launch a Career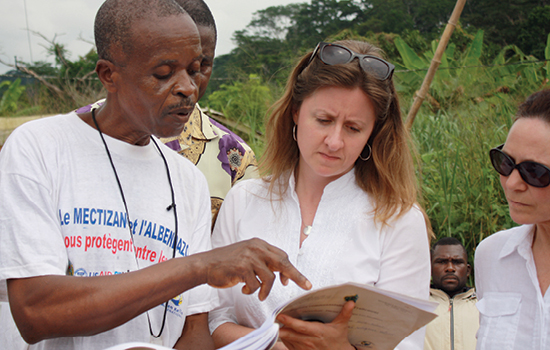 Lisa Rotondo 01MPH was a member of the first Masters International program at Rollins, which allows a student to earn an MPH in conjunction with the Peace Corps' Masters International Program. A month after graduating, she went with the Peace Corps to a rural village in Burkina Faso in West Africa to work with a health district team on Guinea worm eradication.
The experience helped shape her career.
Today, Rotondo is a leading expert in neglected tropical disease (NTD) control and elimination. After serving in senior leadership roles in international trachoma programs with the Task Force for Global Health and the Carter Center, Rotondo is currently director of the USAID-funded ENVISION project at RTI International. In this role, she oversees work in nearly 20 countries, providing technical assistance and funding to ministries of health to address NTDs.
"The nice thing about working in NTDs is that our goals are time-bound, focused, and achievable," says Rotondo.
---
Health for Southeast's Latinos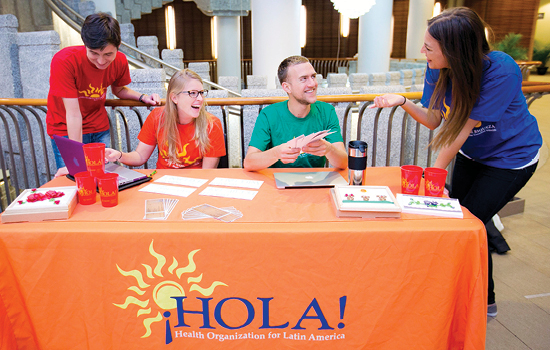 When Karen Andes, assistant professor in global health, agreed to partner with the Consulate General of Mexico in Atlanta to run its Ventanilla de Salad (Window to Health), a health promotion program, she knew this population faces plenty of obstacles in accessing health care. So she enlisted the aid of global health students to survey the program's clients about demographic and health characteristics, physical activity, nutrition, and food security.
The students then proposed evidence-based interventions that could be applied in the Ventanilla de Salad setting.
"Through our work at the consulate, we are creating opportunities for Emory students to build their ability to work effectively in this community while providing services that improve the lives of Mexican nationals in the metro Atlanta area," says Andes.
---
Gaining Global Field Experience
As a global health student who also worked in the Global AIDS Program at the CDC, Jennifer (Jenny) Albertini 04MPH developed a reference guide for HIV post-test clubs, which many testing sites in Africa set up for their clients. She was able to travel to Malawi and Uganda through the Global Field Experience program, supported by the Eugene J. Gangarosa Fund, to conduct her field research for the guide.
"In addition to getting to do the field research to complete my reference guide, I was able to see how CDC offices operated in the field," says Albertini, who is now the senior HIV/AIDS technical adviser for the Africa Bureau at USAID. "This was also the time PEPFAR [the President's Emergency Plan for AIDS Relief] was getting started, so I saw how it worked from the very beginning. Both of these things helped convince me that working on PEPFAR programs in the field was what I wanted to do."
Albertini went on to spend seven years in Africa after graduation—first in Zambia and then in Swaziland—working with an NGO, then the CDC, and finally USAID on their PEPFAR programs. Today she works in the D.C. office of USAID, focusing on how PEPFAR policies get implemented in the field and how African AIDS programs are supported.
---
A Strong Peace Corps Presence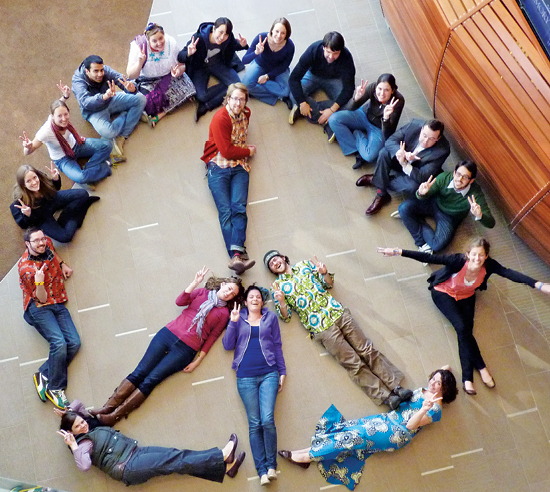 Becca Egner 11MPH, below with outstretched arms, and Paul Fleming 11MPH, directly behind Egner in a green sweater, pose with other Returning Peace Corps Volunteers.
Neither Becca Egner 11MPH nor Paul Fleming 11MPH planned on a career in public health when they signed up to be Peace Corps volunteers in the mid-2000s. Egner planned to become a doctor after her two-year stint in Burkina Faso, and Fleming was going to pursue public policy after his Nicaragua posting. But both fell in love with public health in the Peace Corps.
They were each considering other public health schools when Rollins offered them among the first Paul D. Coverdell fellowships to enhance the school's Masters International program.
"We were brought in to strengthen a program to prepare people who wanted to go into the Peace Corps and also to establish partnerships with local refugee settlement and service agencies in Clarkston to sort of mimic the Peace Corps experience," says Egner, who won the Emory Humanitarian Award in 2011. "It was an incredible opportunity to continue our Peace Corps experience."
Since those early days, the Peace Corps presence has grown dramatically at Rollins, and the Clarkston-Rollins connection has matured into a strong collaboration, with students working in eight organizations that serve the refugee community.
As for Egner and Fleming, they married in June 2013. Fleming earned a PhD in health behavior, and Egner got a degree in public health nursing. They are heading to California in November, where Fleming will do his postdoctoral work at the University of California San Diego, focusing on HIV in the Latino community. Egner plans to continue in practical public health nursing.
---

---