Going Glocal: HIV/AIDS
By Martha McKenzie, Illustrations by Mike Austin
HIV: phoning in prevention
Testing an app to boost PrEP update
The fight against HIV/AIDS got a huge boost seven years ago with the introduction of pre-exposure prophylaxis (PrEP), a daily pill that can dramatically reduce the risk of contracting the virus. Unfortunately, only a small percentage of those who could most benefit from PrEP take it, according to the CDC. Dr. Jeb Jones 16G 12MPH is trying to boost uptake with the help of an app.

Jeb Jones wants to see if an app can help persuade young men at risk for HIV to start PrEP.
Jones, assistant professor of epidemiology, is updating HealthMindr, an app developed at Rollins five years ago that focuses on men who have sex with men (MSM). With the app, men can enter personal information about their health and sexual activity, receive information about their risk for HIV and other STDs, and plan an appropriate testing schedule.
HealthMindr was originally tested in Atlanta and Seattle among HIV-negative MSM. Over the four-month trial, the participants were receptive to the app. More than half used it to order condoms and HIV test kits. One in 10 of the PrEP eligible men started using the medication, with most attributing their decision in part to the app. The results validated the idea that men want to take care of their health and that they are open to technology that helps them do it.
Jones is building on that success by revamping HealthMindr to freshen its look—five years is ancient by app standards—to make it more appealing, particularly to young men. "The age group we target is 18 to 34, but we are really focusing on the younger end of that spectrum," says Jones. "HIV incidence is highest among this group, particularly among black MSM."
More important, he is expanding PrEP offerings and bringing them front and center. The updated app includes a screener to see if PrEP is appropriate, information about where the user can get the drug, how to pay for it, and, if he is taking it, a monthly prompt to check his adherence to taking it every day. It also includes answers to frequently asked questions, such as possible side effects and what to do in the case of missed doses. "We are doing our best to answer all questions we can foresee that could be barriers to starting PrEP," says Jones.
He will be testing the updated app in Atlanta, Washington D.C., and Jackson, Mississippi—locations dictated by the epidemic. "The South is the most heavily impacted in terms of HIV incidence," says Jones. "It's also where PrEP uptake has been the lowest. So there is a clear need here."
Jones will follow young men using the new HealthMindr for a year to see how effective it is in getting them to start and continue PrEP use. He'll compare those results with those from a control group he recruits to use a similar app that lacks PrEP information. "PrEP is a really intensive prevention intervention for a population that doesn't even go to the doctor all the time," says Jones. "But they are on their phones, and we're hoping this app can reach them."
Related Links
"There's an app for that" (4/21/17)
"Implementing PrEP, potential pillar of HIV prevention, in ATL" (3/7/19)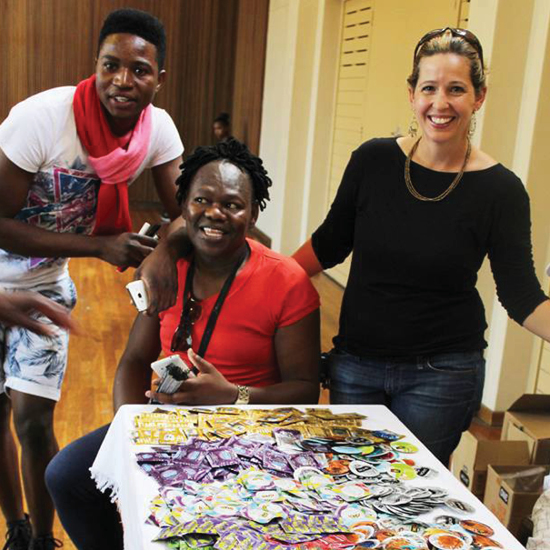 Cape Town staff prepare materials for participant visits as part of Sanchez's earlier study.
Solutions in South Africa
Testing community- and peer-based interventions
Sub-Saharan Africa contains only about 11 percent of the Earth's population, but it accounts for two-thirds of all HIV infections and more than 70 percent of all AIDS-related deaths. Despite these dismal statistics, there have been few studies focused on interventions for men who have sex with men (MSM) in this region.

Travis Sanchez tests HIV interventions in the field.
Dr. Travis Sanchez recently wrapped up one such study and has embarked upon another. The former bundled a host of prevention tools—HIV and STI testing, condoms, lubricants, pre-exposure prophylaxis (PrEP), behavioral counseling, and community engagement. "We were not testing any novel individual interventions," says Sanchez, associate professor of epidemiology. "Rather, we were testing the level of uptake and fidelity to the interventions if we provided them all at once in the same package."
Sanchez and his team rolled out the package of interventions in two South African cities, Cape Town and Port Elizabeth. In Cape Town, he partnered with an organization that has an established research clinic for HIV prevention studies with an experienced staff. By contrast, Port Elizabeth lacked an HIV clinical research facility, so study staff were embedded in local community health centers. Participants there got all their services, testing, and medications at that local center.
Surprisingly, both settings worked equally well. Nearly 90 percent of participants in both cities stayed in the study through the 12 months. About half of them started on PrEP— a rate comparable to similar studies in Atlanta. "Our results not only showed this type of intervention can be effective in high-capacity research clinics, but it can be just as effective in community clinics," says Sanchez.
Sanchez is in the midst of another study, this one targeting men already infected with HIV. MSM living with HIV have a difficult time getting into and staying in treatment in South Africa, at least partly due to the stigma associated with sexual orientation and HIV infection.
Sanchez and his team are testing a community- and peer-based intervention to improve retention in HIV care and increased viral suppression with men from six South African cities. The intervention includes using small nondescript community offices where MSM can discreetly get HIV testing. If they test positive, they can immediately begin antiretroviral medication, get a peer health navigator, and get a referral to local HIV care. "We start the men on treatment on the same day they get tested," says Sanchez. "And we assign them a peer navigator, a local person who will stay in touch with them for a year, making sure they stay in care."
Nearly every eligible participant started antiretroviral treatment and accepted peer health navigator support. The final outcome results of this study are still being analyzed. "The study has already helped us better understand and respond to the challenges MSM face even in South Africa, where there are good public health resources to treat HIV infection," he says. "Many of the challenges are related to stigma and economic hardship. Addressing these issues is critical to providing better HIV care for MSM in other settings and countries."
---