Going Glocal: Diabetes
By Sylvia Wrobel, Illustrations by Mike Austin
Room for improvement
Diabetes management in people living with HIV
Thanks to new antiretroviral therapy, people living with HIV can have a similar life expectancy as the general population. However, people living with both HIV and type 2 diabetes don't share in that advantage. Karla Galaviz wants to find out why—and how to change it.

Karla Galaviz studies
how to prevent and manage diabetes in the HIV population.
Last year, Galaviz, an assistant professor of global health, and colleagues published a study comparing data on HIV-positive women and HIV-negative women, all with diabetes. Over the 15 years for which these data were collected, the number of HIV-positive women who achieved viral suppression more than doubled, thanks to HIV treatment improvements. However, over that same time period, the number of HIV-positive women who met diabetes treatment goals rose only 5 percent. The HIV-negative women didn't do much better. But since both HIV and diabetes independently contribute to higher risk of cardiovascular disease, uncontrolled diabetes may pose a heightened risk for HIV-positive people. Her study showed that management of diabetes needs to be improved in the HIV-positive population.
Galaviz's second study found that standard tools to detect people at high diabetes risk simply aren't as effective in women with or at risk of HIV infection. Women considered at risk are from low socioeconomic status, inject drugs, or engage in risky sexual behavior.
The bottom line, says Galaviz, is that standard diabetes risk screening tests aren't giving the whole picture for people living with HIV. To better understand diabetes risk in this group, she says we need to explore HIV-related risk factors. She currently is conducting a study among HIV-positive and HIV-negative men and women to explore ways to incorporate HIV-related information in screening tools. For example, what kind of medications are participants taking? Are the medicines working, that is, is the virus suppressed? Are they experiencing body changes in response to the HIV medicines?
She hopes adding these HIV-related factors will enhance the screening process in an often underserved population, better nailing down who should be tested for diabetes and prescribed preventive interventions such as lifestyle modifications.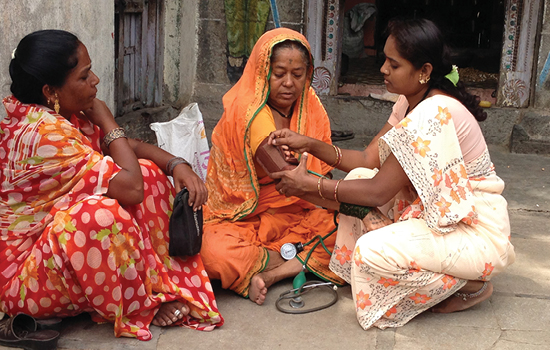 Type 2 diabetes increasingly develops in normal weight and underweight people in Asia and Africa. Courtney Peters 14MPH took this photo while on a Global Field Experience trip.
Looking beyond BMI
Type 2 diabetes in non-overweight adults
In the United States and other western countries, being overweight or obese is a major risk factor for type 2 diabetes. But in fast-developing Asian and African countries, where rates of diabetes are shooting up, there is another side of the coin, says Dr. Unjali Gujral, assistant professor in the Hubert Department of Global Health. In these countries, more and more cases are occurring in normal weight and even underweight men and women. Gujral led an extensive literature review that found lean individuals represent up to 80 percent of all type 2 diabetes cases in some populations from developing economies.

Unjali Gujral is unraveling the mysteries of a different type of diabetes.
With colleagues in the Emory Global Diabetes Research Center and the Madras Diabetes Research Foundation in India, Gujral compared diabetes prevalence in Asian Indians living in India with that of whites living in the U.S. She found that weight mattered, but the direction and impact varied markedly by ethnicity and sex. For example, not a single underweight U.S. white man in the study had type 2 diabetes, compared with 5.4 percent of underweight Asian Indian males in India. Of underweight white women, 2.3 percent had diabetes, compared with 5.6 percent of their Asian counterparts. Overall, the prevalence of type 2 diabetes in normal weight Asian Indians was even higher than in overweight whites in the U.S. Adjustment for waist circumference, insulin resistance, and insulin secretion did not explain the differences, suggesting additional factors may play important roles.
Such findings present an emerging public health challenge, says Gujral. They also raise the possibility that individuals who are under- or normal weight may develop type 2 diabetes through a different pathophysiological pathway than those who are overweight. In her study, both Asian Indians and white normal or underweight persons with diabetes had lower fasting insulin and poorer insulin secretion than their overweight or obese counterparts.
And, she adds, the findings definitely suggest that using BMI (body mass index) as the main criterion for diabetes screening, as currently recommended, may fail to identify diabetes risk and/or other cardiometabolic risk factors in patients with ancestry from different regions.
Gujral takes the issue personally. Her parents arrived in North America from India in the 1970s. Her parents' generation's American-born children are now having their own children. In addition to her ongoing work focused on the challenges facing Asia, Gujral wants to understand how ethnicity and environment will affect risk and outcomes not only for immigrant populations, but also for subsequent generations living in the U.S. and worldwide.
---