Going Glocal: Mental Health
By Martha McKenzie, Illustrations by Mike Austin
---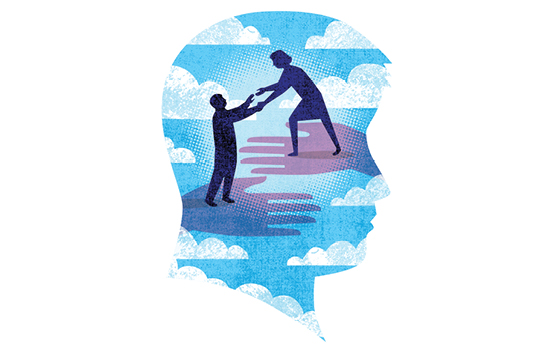 Rosalynn Carter speaks to a group of journalists in the program she created to improve the quality of reporting around mental health issues.
POWER OF THE PRESS
Reducing the stigma of mental illness through a journalism fellowship
Mental illnesses are some of the most serious, unrecognized, and under-reported health problems in the U.S. and around the world. To help reduce stigma and discrimination, the former first lady founded the Rosalynn Carter Fellowships for Mental Health Journalism more than two decades ago. Dr. Robin McGee 06MPH 17G, assistant professor of behavioral sciences and health education, works closely with the program to evaluate whether it's meeting its goals. "Those goals are really threefold," says McGee. "To increase accurate reporting on mental health issues, to help journalists produce high-quality, contextualized work on mental health issues, and to build up a cadre of journalists working in this area."

Robin McGee evalates a program that promotes appropriate coverage of mental health issues.
McGee surveys alumni and follows their work during and after leaving the program to chart the fellowship's impact. She developed a guide to score and evaluate how well they adhere to the standards of reporting on mental illnesses and whether they include an angle that highlights recovery. She looks at everything from the language journalists use in their reporting to policy changes that result from their work.
Using language that doesn't stigmatize mental illnesses lays a foundation for better understanding of the issues, according to McGee. Examples include using phrases such as: "He has schizophrenia" instead of "He's a schizophrenic," which labels the person by their illness, and avoiding the use of psychiatric terms out of context, such as "schizophrenic economy," which trivializes mental illness.
Linking mental illness with violence is of growing concern. Media covering shootings, for example, are often quick to report that the shooter has a mental illness. "Sometimes that is the case, but on the whole, people who have mental illnesses are more likely to be the victims of violence than the perpetrators of it," says McGee. "If journalists can include that context, it can help dispel the myth that mental illness and violence go hand in hand."
Through comprehensive case studies of several fellows' work, McGee has been able to document some of the ways they have contributed to change. For example, a fellow from The Seattle Times exposed a practice of "boarding" patients with mental illness in hospital emergency rooms because of a lack of psychiatric beds. His reporting led to the appropriation of $100 million in new funding to fix problems in the mental health system and to a new law to assist families of people who have mental illnesses.
"My analysis shows this fellowship has had a considerable impact on the journalists and their readers. The fellows' work contributes to better mental health reporting, increases public awareness, and helps shape policy," says McGee.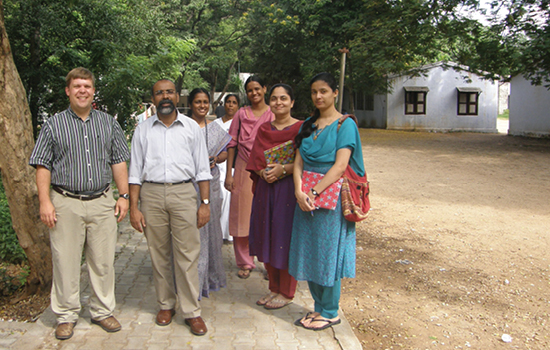 Peter Ferren (far left) visits a school in India where he helped establish school-based mental health services.
Sharing and learning lessons
An alum bolsters child psychiatry services in India
Dr. Peter Ferren 96MPH was studying to become a pediatrician when he decided to pursue his MPH simultaneously. At that time, mental health was not widely considered a domain of public health. There were few courses, professors, or practitioners of the topic. But Ferren wanted to move beyond treating one child at a time to devising interventions that could improve mental health for thousands.

Peter Ferren helped a medical college in India establish the country's first recognized child psychiatry training program.
Now a professor of child psychiatry at University of California, San Francisco, Ferren began making annual trips to Christian Medical College (CMC) in Vellore, India, in 2007. The hospital had a child psychiatry department—a rarity in India—but the country lacked a nationally recognized child psychiatry training program. The director of CMC wanted Ferren to help establish the first such program.
Ferren began by observing, volunteering with the inpatient and outpatient clinical child psychiatry facilities as well as with the pediatric department. He discovered there were some things they did very well—working with adolescents who had schizophrenia, bipolar disorder, and major depression, and children with autism and intellectual disability.
He found other areas that needed work. "Their view of childhood trauma was relatively restricted," says Ferren. "This province has been affected by a tsunami and other natural disasters, and they recognized those experiences as traumatic. But they avoided addressing domestic violence, child abuse, and bullying as traumatic, which are endemic in this population. They lacked interventions for this type of trauma."
Ferren worked with CMC staff to refine their patient intake questions to include very specific queries about domestic violence, child abuse, and bullying. He also introduced the use of toys, games, and drawings in play therapy to get children to open up about their experiences.
Through his work over the years, Ferren's consultation helped the CMC director create India's first nationally recognized child psychiatry fellowship, but the experience was very much a two-way street. When he first started working in India, he noticed CMC child psychiatrists regularly visited pediatric outpatient clinics to identify mental health issues and collaborate with the pediatricians. That practice was uncommon in the U.S. at the time, and Ferren pushed to integrate more mental health services into primary care at Zuckerberg San Francisco General Hospital where he has spent his career.
His experiences in India also brought home the importance of engaging the entire family in treatment. Families from all over India, Nepal, and Bangladesh travel for days to access treatment for their children at CMC. If the child is admitted for inpatient treatment, the entire family often stays, sleeping in the same room with their child and cooking their meals in the hospital unit.
"We don't have the luxury of hospitalizing an entire family here, but it got me thinking about what we can do to increase family participation," says Ferren. "I've been looking for ways to get families more involved. My ongoing collaboration inspires my creativity daily to broaden my impact on the mental health of children and adolescents."
---