Going Glocal: WASH
By Sylvia Wrobel, Illustrations by Mike Austin
---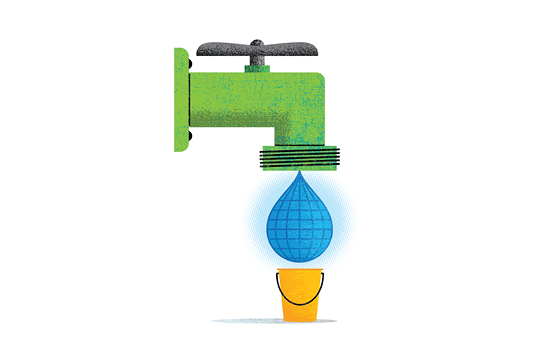 Debbie Lee and a colleague collect cucumber samples during a test of the water quality of an irrigation pond in Tifton.
Pathogens in produce
Devising better tests for irrigation water contamination
Salmonella once was considered primarily a problem of contaminated meat, poultry, milk, and eggs. Today, however, nearly half of the annual 1 million cases of Salmonella illnesses in the U.S. are attributed to produce, often contaminated before harvest by manure-based fertilizers or by tainted irrigation water.

Debbie Lee looks for better ways to evaluate irrigation water.
In 2015, recognizing the growing risk posed by contaminated irrigation water, the Food and Drug Administration issued new water quality requirements. But, says Dr. Debbie Lee 18G, now a postdoctoral research fellow at Temple University's College of Public Health, the requirements don't come with any instructions about how and where to sample pond water to make sure the samples are adequately representative of what is often a large area.
Nor, she adds, do the federal standard tell growers to actually look for Salmonella. Like the current standards for drinking water and recreational water quality, the standards for irrigation source water use coliform bacteria, such as E.coli, as "indicators" of water quality. The logic is that coliform bacteria live in the gut of animals, so the presence of coliforms in the water samples will indicate whether or not water has been contaminated with fecal matter. No coliforms, no contamination.
While working toward her PhD in environmental health at Rollins, Lee and her mentor, Dr. Karen Levy, explored how to sample irrigation ponds in South Georgia in ways that would effectively capture contamination levels without being prohibitively complex and expensive. Lee's team found that although the ponds they analyzed met the federal criteria, Salmonella was detected regularly in all of them over the 19-month study. Concentrations were low, and the study was not designed to determine if these levels posed any health risk.
However, the study was designed to determine the best and most user-friendly sampling strategies. Lee and her team believed that water at the intake pipe of the irrigation ponds would best approximate irrigation water applied to crops. But intake pipes are generally located in the middle of often very large ponds and are thus difficult to access. They found that samples taken from the shoreline nearest the intake pipe were close enough to be an adequate alternative.
In the next study, the team found Salmonella contamination in the irrigation ponds, the irrigation distribution systems, and the produce that was irrigated. Risk assessment studies are needed to determine whether concentrations at the low levels she found even pose a risk to consumers.
In the meantime, she hopes her findings will make growers more aware of Salmonella prevalence—and that future studies will lead to improvements to current water quality criteria and testing standards, promoting higher levels of produce safety.
---
Staff at a Cambodian hospital get training in mixing proper cleaning solutions and in sanitizing the facility.
Water safety in hospitals
Addressing a gap in WASH practice
Working as executive director of a health care facility in Haiti, physician Joanne McGriff increasingly realized that infection prevention and control—a long-standing mainstay of good health care—simply wasn't enough to keep her patients and staff safe. The facility also had to be mindful of the impact of clean water.

Joanne McGriff works to improve WASH conditions in hospitals.
So when she had a chance to join the Rollins Center for Global Safe WASH (CGSW) as associate director, she jumped at it. The CGSW is one of the oldest, largest water, sanitation, and hygiene programs in the country and one of the few to focus on water safety issues outside of community development, particularly in hospitals. "The WASH sector typically assumed that if a hospital was running and functioning, everything must be fine," she says. "But that's just not the case."
McGriff worked on a team led by Christine Moe, Eugene J. Gangarosa Professor of Safe Water and Sanitation and director of the CGSW. Her team discovered the true WASH conditions in health care facilities through working with the GE Foundation to monitor water treatment systems installed in hospitals in Ghana, Honduras, Rwanda, Uganda, and Cambodia. McGriff's team was charged with identifying facilities that had the leadership, staffing, and infrastructure to support the water system. Along the way, they found that many of the hospitals they visited lacked piped water or even a protected well, and even those that had them sometimes dealt with contaminated water.
McGriff's team also identified a crucial gap in infection prevention and control training in Cambodia. The cleaning staff, while arguably the most important part of the work force when it comes to environmental cleanliness, was the most neglected: overworked, undertrained, with high levels of turnover. And despite lacking basic knowledge in infection prevention and control, they were often involved in tasks beyond their sphere of expertise, such as helping with deliveries and sterilizing operating room equipment.
"We devised a training regimen that included Ministry of Health trainers going in and doing hands-on demonstrations of how to mix proper cleaning solutions to kill pathogens and bacteria," says McGriff.
McGriff and her team spent several years advocating for improvements in water safety in hospitals in Cambodia—an effort that finally paid off. In 2017, Cambodia created its first National Guidelines for WASH in Health Care Facilities and added a line item in its national budget that could be used for WASH-related activities in hospitals.
With everything they learned working on WASH in hospitals over more than 12 years, McGriff and her team are now leading a monthly webinar series that gathers experts from across the field to share their work with clinicians, field staff, and policy officials who are interested in improving WASH in their facilities. Says McGriff, "We are connecting WASH and health technical experts with frontline workers and decision makers in a forum where the highest level of information and best practice can be shared."
---