More than one way to serve
---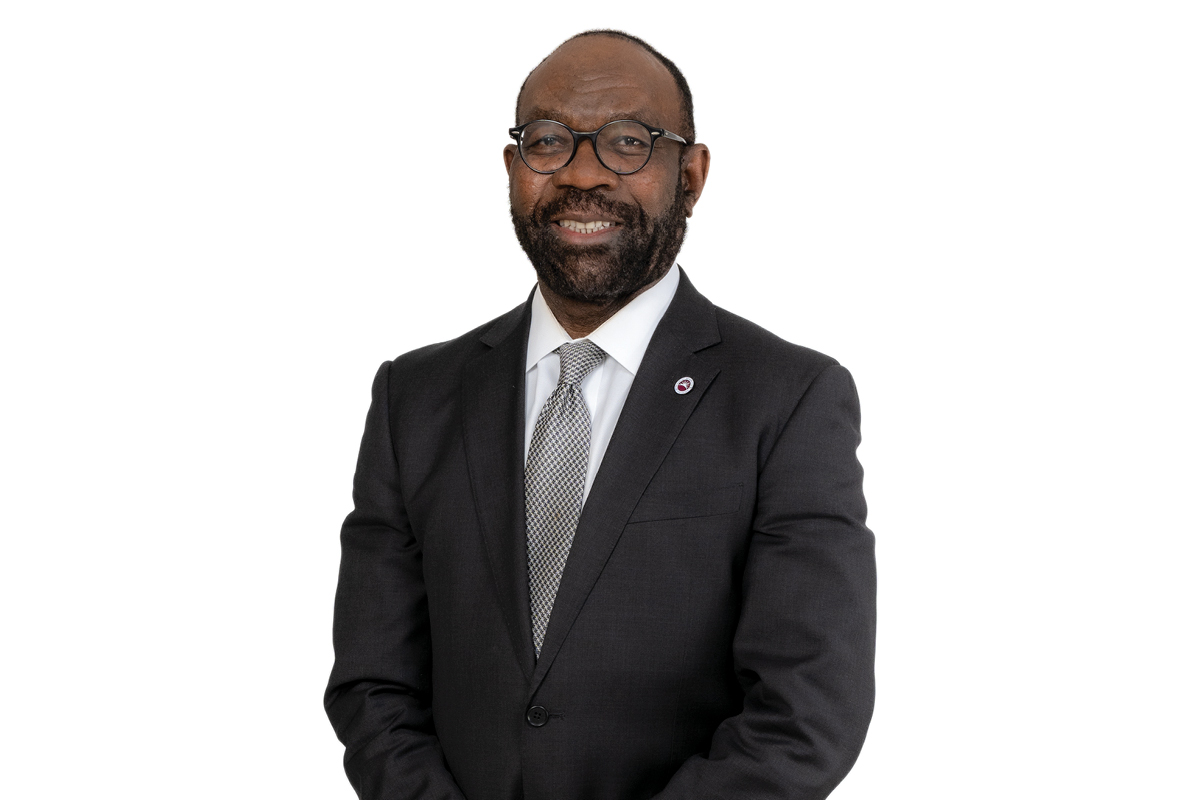 Michael Ugwueke 86MPH came to the United States with a straightforward plan. He wanted to get an MD and return home to Nigeria to practice. He did neither—and he's fine with that. Ugwueke never became a physician, but he presides over many of them as president and CEO of Methodist Le Bonheur Healthcare, a six-hospital, 13,000-employee system. He never went back to Nigeria, but he still serves underserved populations in and around his home base of Memphis, Tenn.
"When I was growing up and thinking about being a doctor, I envisioned addressing health inequities and improving access to care in underserved populations," says Ugwueke. "Today I am doing that, just in a different location than I imagined. It's been a blessing and a privilege to be part of a team that is making an impact."
And if awards are any indication, Ugwueke has made quite an impact. He was recently named one of the 2022 Most Influential Black Executives in Corporate America by Savoy Magazine. He has also been honored in 2021 with the Baldrige Foundation's Harry S. Hertz Leadership Award, the Tennessee Hospital Association's CEO of Distinction award, and recognized by Modern Healthcare's 2020 honor roll of Top 25 Minority Executives in the Nation.
Ugwueke's journey toward a career in health care began in childhood. Born in Nigeria, he lived in a one-room home with his parents and five younger brothers. In 1967, their lives were turned upside down with the outbreak of a violent civil war. The family moved from one refugee camp to another, and along the way one of his brothers got sick. "There were no doctors or hospitals available to us in the refugee camps," says Ugwueke. "I literally watched my one-year-old brother die before my eyes. I decided that morning that I was going to be a medical doctor."
He scraped together enough money to come to the US to attend Shaw University in Raleigh, NC, where he earned a degree in biology in three years while working three jobs. However, he wasn't able to raise enough money to enroll in a medical school. A professor encouraged him to consider a master's degree in public health instead. "I had never heard of public health, didn't know what it was," says Ugwueke. "But I enrolled in the Emory public health program when it was still part of the medical school."
That decision changed his career path. He had assumed that the US was the land of plenty, with no one going without.
A class in community health showed him the reality. "Through this course I was exposed to parts of Atlanta I had no idea existed," he says. "There was abject poverty, lack of access to quality health care. It dawned on me that if in a city like Atlanta, which has a banner supply of doctors and hospitals, poor people are still dying needlessly and hopelessly, maybe I didn't have to return to Nigeria to pursue my passion. The need was literally staring me in the face right here. At the same time, there was a miliary coup in Nigeria, so I couldn't have returned at that time even if I wanted to."
With an MPH degree in hand, Ugwueke now set his sights on working at the CDC or a department of public health. But his career took another turn when a friend told him about an opening to do a project at what was then Georgia Baptist Medical Center. He turned that project into a full-time position and, over the next three years, worked his way up until he was being considered for the post of director of marketing and planning. He didn't get it.
"It was made known to me that it wasn't my performance or experience that kept me from getting that job," says Ugwueke. "It was because the organization was not ready for a Black director at that time."
So Ugwueke left his post and went on to serve in planning and operational leadership roles in health care organizations in Sarasota, Fla., Washington, D.C., and the Chicago area. Along the way, he got his doctorate in health administration and leadership from the Medical University of South Carolina.
In 2007, Ugwueke was recruited to Memphis as the CEO of one of the small hospitals within the Methodist Le Bonheur Healthcare system. "This hospital was troubled and required a turnaround," he says. "We were able to turn it around within two and a half years."
Once again, he steadily worked his way up, and in 2017 he was named president and CEO of the entire system. "When I came, some of these hospitals were being considered for closure," says Ugwueke. "But now they are flourishing."
Ugwueke looks back on his time at Emory as the opportunity of a lifetime. He has shown his gratitude by establishing, with his wife Rebecca, the Ugwueke Family Scholarship Endowment. The fund provides support to Rollins MPH and EMPH students in health policy and management, with a preference for students with a demonstrated commitment to improving health in West African countries.
"When I graduated from Emory, I owed the school a lot of money," says Ugwueke. "That I now have the opportunity and privilege to establish a scholarship at the school is a large point of pride for me."
Share This Story