A champion for Rollins
M. Daniele "Dani" Fallin, the new James W. Curran Dean of Public Health, is poised to lead the school into a changing and challenging future.
---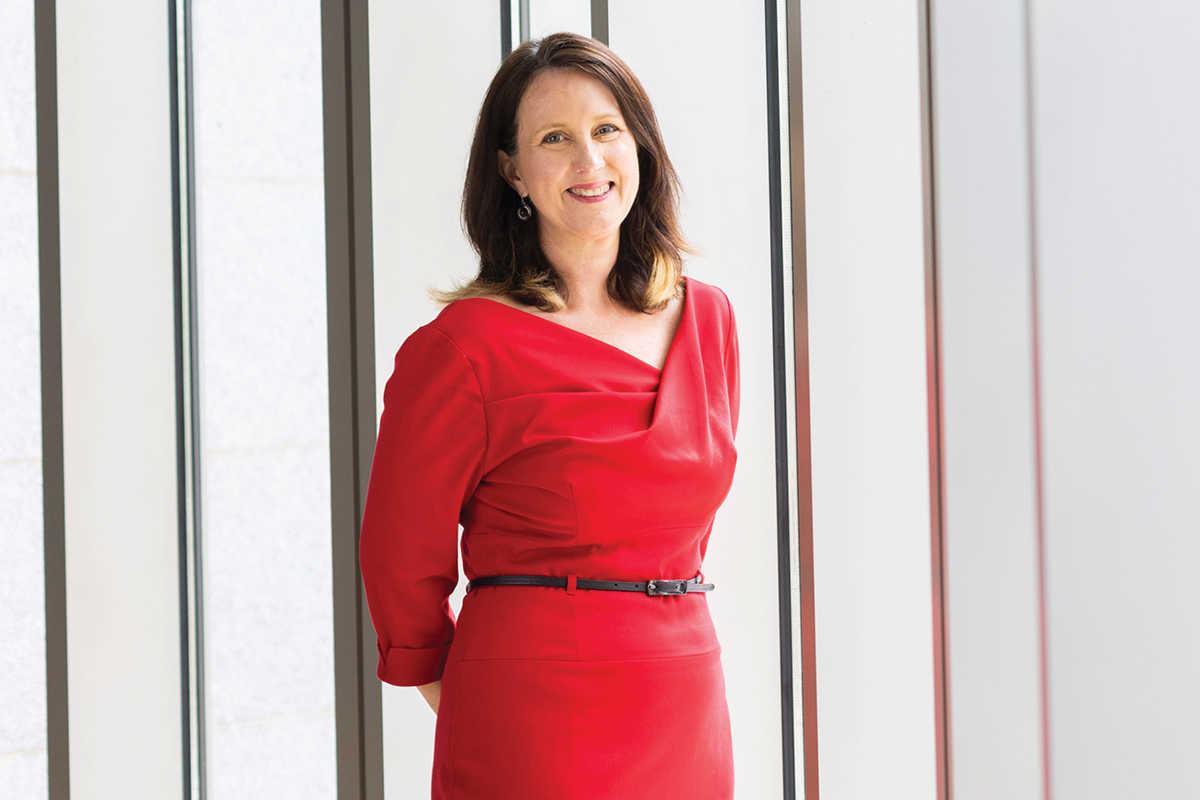 When M. Daniele "Dani" Fallin took the helm of the Department of Mental Health for the Johns Hopkins Bloomberg School of Public Health, her first order of business was to listen. "I had lived in epidemiology for so long, I really didn't know much about the mental health department," says Fallin. "So I had to learn."
She met and talked with faculty, staff, and students. She even gathered all the faculty together and had them go around the room explaining their definition of public mental health. "The definitions people gave were actually all over the board," says Elizabeth Stuart, executive vice dean for academic affairs and a professor in the mental health department at the Bloomberg School. "Dani really helped the department crystalize its role around pursuing research, advocacy, and communications. She elevated our conversations around what public mental health is and our role in increasing awareness of public mental health around the country and globe."
That experience provides a good picture of Fallin's management style as she assumes her post as the new James W. Curran Dean of Public Health. She's not afraid to make the hard decisions needed in leadership, but she makes sure everyone's voice is heard first. She also brings a rich and fruitful research history focused on applying genetic epidemiology methods to studies of neuropsychiatric disorders including autism. And she brings her tireless advocacy for public mental health, including workplace mental health.
"Dean Fallin is a one-of-a-kind academic leader," says Emory University President Gregory L. Fenves. "Her years of visionary research and teaching coupled with a profound commitment to the people she serves—students, faculty, and staff—have enabled her to lead at Rollins from her very first day on the job this summer. For Dean Fallin, there is no goal that is too ambitious and no detail too small. She cares deeply about the Emory community, and there truly is no limit to what Rollins can accomplish with Dean Fallin at the helm."
Turning, jumping, and sticking the landing
Fallin's route to the corner office in the Claudia Nance Rollins Building is marked with twists and shortcuts. She entered the University of Florida determined to become an aerospace engineer, spurred by her love of math and physics and the prevalence of that industry in the Fort Walton Beach area where she was raised. Timing intervened. This was the early 1990s, and the aerospace industry was in a major slump.
Concerned about future job prospects in a field that was in a downturn, she switched her sights to biomedical engineering and pursued a major in animal physiology—the university did not offer a degree in human physiology, so that was the closest she could get. Her new concentration fell under the zoology department, so she graduated from college—the first in her family to do so—with a BS in zoology.
Having matriculated early and wanting to stay close as her friends enjoyed their senior year, she accepted a job at a local hospital rewriting national cancer protocols for local Institutional Review Board approval. Her career path took another turn.
"That was the first time I heard about epidemiology and biostatistics," says Fallin. "We didn't have any exposure to those terms in undergrad, but that was exactly what these protocols were. I thought it was fascinating, combining math and biology, and that's how I ended up getting interested in public health."
Fallin enrolled in the University of South Florida to pursue an MPH in epidemiology, but her instructors quickly suggested she jump directly into the school's PhD program. She did. While there, she worked as a secretary for a lab whose scientists had discovered the original Alzheimer's mutations when they were in London. "Even though I was in the role of secretary, I started speaking up about science in meetings," she says. "I'd say, 'Oh, you're using 'prevalence' when I think you mean 'incidence.' They very quickly hired a new secretary and took me on as part of the research team. So I was able to do genetic research while I was getting my doctoral degree."
With this new research came the realization that she wanted to pursue statistical genetics and genetic epidemiology, for which her current university was not a good fit. She was able to transfer to Case Western Reserve University to study under the man considered the grandfather of genetic epidemiology, Robert Elston. There, Fallin joined the largest group of statistical geneticists in a single department.
Toward the end of her studies, she happened to meet a woman from Johns Hopkins who was doing a site visit for an NIH grant at Case Western. Impressed with Fallin, the woman told her they were looking for assistant professors and that she should apply. Fallin did, and without ever doing a postdoc, she was hired. "I defended in October 2000, and I started at Hopkins in November 2000," says Fallin. "Looking back, it was a bit of an unusual path, but I ended up being able to do all the things I loved."
Bringing together two research worlds

A newly minted genetic epidemiologist, Fallin joined Johns Hopkins and continued studying Alzheimer's, soon adding bipolar disorder and schizophrenia to the mix. At the time, genetic epidemiology was largely restricted to following conditions through extensive family lines in the hopes of identifying responsible genes. What was just emerging was trying to do this work in a broad population setting, and that is where Fallin dove in. "We were working to figure out if we could devise statistical approaches to apply in population-based samples that could accomplish similar discovery goals as familial study designs," she says. "It was a novel idea at the time."

A few years into the work, a fellow professor asked her for some help. His son had been diagnosed with autism, and he had been trying to dig into the epidemiology of the disorder. Finding very little, he had shifted his career to the pursuit of autism epidemiology. He asked Fallin to do a literature review with him to find out what was known about both the genetics of autism and nongenetic factors, with an eye to how that could play into population epidemiological research.

Fallin was hooked. Alzheimer's strikes late in life, leaving little room for mitigation. Schizophrenia and bipolar disorder generally appear in early adulthood, but the stigma attached to the conditions makes it hard to recruit people for studies. Autism, on the other hand, happens so early in life that there is a huge opportunity for changing the trajectory of the disorder. And children with autism are often surrounded with people hoping to help them—parents, grandparents, members of the community. "Autism presented a very different landscape in terms of research opportunities than what I was used to," says Fallin.

She began writing more and more grants with the professor who had asked her to do the review, and by the time he left for a position at another university, autism consumed all of Fallin's focus. She brought her consensus-building sensibilities to the table. "For the whole short history of autism studies, there were two camps of researchers—those looking at the genetic causes and those looking at everything else," she says. "The epi crowd tended to live in the 'everything else' camp, which considered chemical exposures, vaccines, maternal conditions, and more. The two worlds didn't talk very often. What I have tried to do over the years is bring these two together. What can we learn from the genetics of autism that will help inform the larger epidemiology of autism and then vice versa."

Her inclusive approach set her on a path to lead groundbreaking studies of autism. She became the PI of the Maryland site of the SEED study (Study to Explore Early Development), a multisite case-control study of autism genetic and environmental risk factors and the EARLI study (Early Autism Research Longitudinal Investigation), a prospective pregnancy cohort focused on causes of autism. She also became co-PI of the conversion of the Boston Birth Cohort into an autism prospective birth cohort and co-led two NIH Roadmap-funded projects on epigenetic epidemiology as well as multiple NIH grants integrating genes and environment using data from these studies.

"Dean Fallin is an outstanding scholar whose work has contributed important insights into the genetic and environmental underpinnings of mental health and neuropsychiatric disorders," says Emory Provost and Executive Vice President for Academic Affairs Ravi V. Bellamkonda. "She is also a wonderful, collaborative leader who creates communities that help others thrive in the pursuit of scholarly excellence, innovative research, and exceptional learning opportunities. As the pandemic has revealed, public health research and policy touch nearly every aspect of life from economies to social interactions, and I am thrilled that Dani Fallin will lead the Rollins community of faculty, staff, students, and well-wishers into this new era. She is both ambitious for Rollins and Emory and gifted with the vision, wisdom, and skills to help chart our path to further eminence."
A champion who leads with her heart and her brain
Fallin's research was given a home following a tragedy. The dean of the school, who had three children including a high-school daughter with autism, lost his wife suddenly. To honor his late wife, he created a fund to support autism and developmental disabilities research. The fund quickly grew into a center, the Wendy Klag Center for Autism and Developmental Disabilities, and Fallin was named its director.
Just six months later, Johns Hopkins named Fallin chair of the Department of Mental Health. Both thrived under her leadership.
At the Wendy Klag Center, she created pilot funding mechanisms for faculty and trainees that resulted in large payoffs in terms of later grants. She fostered collaborations with faculty across the campus, and she oversaw the creation of a public health autism course. Fallin significantly expanded the Department of Mental Health, hiring junior faculty in cohorts of twos, threes, and fours, with a focus on bringing in women and minorities. She expanded the department's mentoring program and—perhaps her biggest point of pride—she "created continuity of community and wellness during the pandemic and period of social injustice."
In both settings, Fallin demonstrated her management style—create and nurture the optimal environment for people to enjoy and flourish in their work and then get out of the way and let them do it. "I used to sit in on some of her meetings with junior faculty, and I was so impressed with how she framed the conversations," says Stuart. "Her focus wasn't, 'To get promoted, you need to do X, Y, and Z.' She would help them think through what gives them value in their life and work and then create roles to help them achieve that.
"Many faculty members in the department are nervous about her leaving because they—across a range of research areas—say she was one of the biggest champions of their work," continues Stuart. "She was not an expert in all of their areas, but she was committed to helping everyone in the department reach their potential and do high quality and impactful work."
Beth Resnick, assistant dean for public health practice and training at Johns Hopkins, puts it another way. "Dani is a champion who leads with her heart and her brain."
Underlying all the work she does is her passion for supporting public mental health, most recently with a focus on workplace mental health. She recently co-led the creation of a research center funded by the National Institute for Occupational Safety and Health that will investigate how to improve mental health in workplaces around the country. She also led a task force across the university to address student mental health issues. "In public health, we are often really good on focusing on other people and what they need to do but not as good at focusing on ourselves and our own people," says Resnick. "Dani never lost sight of that. She was always a clear, strong voice advocating for mental health policies and supports for faculty, staff, and students."
New shoes in town

Fallin left a lot behind in coming to Rollins and Atlanta. She left two endowed positions as the Sylvia and Harold Halpert Professor and a Bloomberg Centennial Professor. She left a city that catered to her family's love of all things water—sailing, paddle boarding, and fishing. And she left the only work home she had had since earning a PhD.

What lured her to Rollins? The usual suspects, to be sure—Atlanta's position as the public health capital of the world, the school's close ties with the Centers for Disease Control and Prevention, and the school's rapid trajectory. But perhaps the main draw was the people. "The reason I never left Hopkins is because I believe in the people of Hopkins," says Fallin. "I didn't think you could find a better place where there are these really smart, top-of-their-game people who are also lovely. You actually want to hang out with them. I discovered Rollins has that same thing."

Fallin realizes she has big shoes to fill. Jim Curran was the school's dean for almost three decades, and the dean's position was named for him in 2009.

"It's safe to say I could never fill Jim's shoes," she says. "Instead of thinking of it as daunting, I think of it as a privilege to succeed such a strong leader, particularly one who will still be around. We've been having virtual coffee breaks every other Friday since the announcement was made, and he has been beyond generous in sharing the school's history, key relationships, and perspectives."

"I could not feel more confident passing the baton to a leader like Dani," says Curran, who is remaining at the school as a professor of epidemiology and global health. "She has the skills, the vision, and the passion to lead our school into a changing and challenging future. And she very much cares about people first—students, faculty, and staff."

As she did when she assumed the lead of the Department of Mental Health, Fallin plans to spend her early days listening. "I led the strategic planning committee when our new dean took over several years ago," she said. "We got input from everyone—faculty, staff, students, alumni, partners across campus and outside the university. Since we're a school of public health, we used 'mixed methods,' incorporating qualitative interviews and focus groups and quantitative surveys. In about six months we were able to develop a plan for the route ahead. I would like to follow a similar model at Rollins, getting everyone's input before we go charging down a path."

That said, there are some areas about which Fallin is passionate, with mental health leading the list. She gives the school high marks for this area. "Rollins already has a strong bench of mental and behavioral health researchers, including substance abuse research," she says. "The school's student services department is already doing amazing work to support student mental health, and our dean for faculty has been paying close attention to the mental health of staff and faculty."

She hopes to build on this to continue to promote mental and behavioral health research, practice, and education while also nurturing the mental health and wellness of the faculty, staff, and students of Rollins. She also points out opportunities for expanded engagement with the mental health initiatives of The Carter Center and her excitement that a long-time colleague in pediatric mental health is coming to Emory School of Medicine and Children's Healthcare of Atlanta this fall, paving the way for expanded childhood and emerging adulthood mental health collaborations for Rollins.

Fallin sees science communications as another priority. "What we do really doesn't achieve impact if we can't articulate it well and aren't paying real attention to how and to whom we communicate," she says. "We have a huge responsibility to be part of the messaging of the importance of public health and how it touches literally all sectors of society. We also need efficient and empathetic internal communications to sustain our special sense of community, support each other through challenging times in public health, and celebrate each other's successes—both professional and personal."

What does Fallin see as the biggest challenges facing public health in the coming decades? They are numerous, including pandemics, chronic disease, and health inequities. Three, however, rise to the top in her mind—mental health, climate change, and reproductive rights. With the pandemic, gun violence, and racism showing no signs of abating, public mental health will remain a strong need. Perhaps eclipsing all other concerns will be climate change. "Anything we do in the future will have to include how it will be touched by climate change­—we won't be able to escape it," says Fallin. "We already have very strong environmental health sciences at Rollins that is doing important, impactful work. I can't see that doing anything but growing."

With the overturning of Roe v. Wade and Georgia's stunningly rapid enactment of the "heartbeat bill,' reproductive health and rights has taken on a new and immediate urgency. Rollins is well prepared. The Global Elimination of Maternal Mortality from Abortion (GEMMA) Fund, established by renowned researcher and advocate Roger Rochat and his wife Susan, has been supporting abortion-related education, research, and outreach events since 2002. The school's Center for Reproductive Health Research in the SouthEast (RISE) has been analyzing the family planning and reproductive health landscape in the region since 2018. "Rollins is out in front in this area, and that means we have a huge role to play in navigating this new landscape," says Fallin.

Fallin sees demanding and fulfilling days ahead as she settles into her new role and prepares to face these and other challenges. "This is an inspiring time to be in public health," she says. "There is much to be done. I believe Rollins can lead the field in this critical moment."
Share This Story