Reflections on my time as dean
---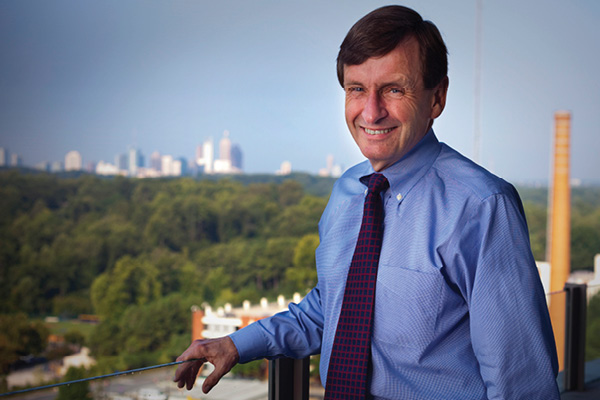 When I joined Rollins in 1995, the school was young, small, brimming with promise, and already committed to excellence in curriculum and research.
Now, 26 years later, Rollins is internationally recognized and ranks fourth in both US News & World Report's rankings and in National Institutes of Health funding. 
Being part of Rollins during its remarkable growth has been inspiring to me, both personally and professionally. I feel fortunate and grateful to have been a part of the Rollins community, where I have had the privilege to work with and learn from truly exceptional people. Thanks to all of you for making Rollins one of the best schools of public health in the world.  
A school is as good as its faculty, and ours is among the best, both in teaching and in research, as their innumerable awards, publications, and research grants can attest. They take a keen interest in our students and serve not only as experts, but mentors as well. 
Our staff work behind the scenes to support the people and the mission of our school and to ensure everything is functioning as it should, even during a global pandemic. They are an integral part of the fabric of our community. 
2023's incoming class is our largest to date, with 681 students representing 39 countries and 44 states. These students—like those before them—give me hope in the future. They are passionate advocates for societal change and have repeatedly demonstrated they are willing to put in the work to make a difference. 
Our more than 11,000 alumni can be found all over the globe, many in leadership positions in their fields. These committed professionals work on the front lines of COVID-19, HIV/AIDS, chronic diseases, health disparities, and more. I delight in hearing about their continued accomplishments. 
Our trajectory would not have been possible without the support of generous donors, especially the Rollins family. Their commitment to our mission has been expressed through the O. Wayne and Grace Crum Rollins Endowment Fund, numerous endowed professorships, scholarship support, and of course, soon-to-be three magnificent buildings. 
Our school is home to two endowed departments, the Hubert Department of Global Health and the Gangarosa Department of Environmental Health, the only solely Emory named departments at the university. Thousands of friends and alumni have contributed to more than 100 endowments now valued at over $150 million. I cannot overstate how critical gifts such as these are for our current and future success.
It has been my privilege to be a part of this school and to work alongside so many talented, inspiring faculty, staff, students, alumni, and donors. The future of Rollins is bright, and I look forward to witnessing the heights the school will reach next.  
Share This Story