Rollins alumni receive three of five top Emory honors
Celebrating service and leadership
---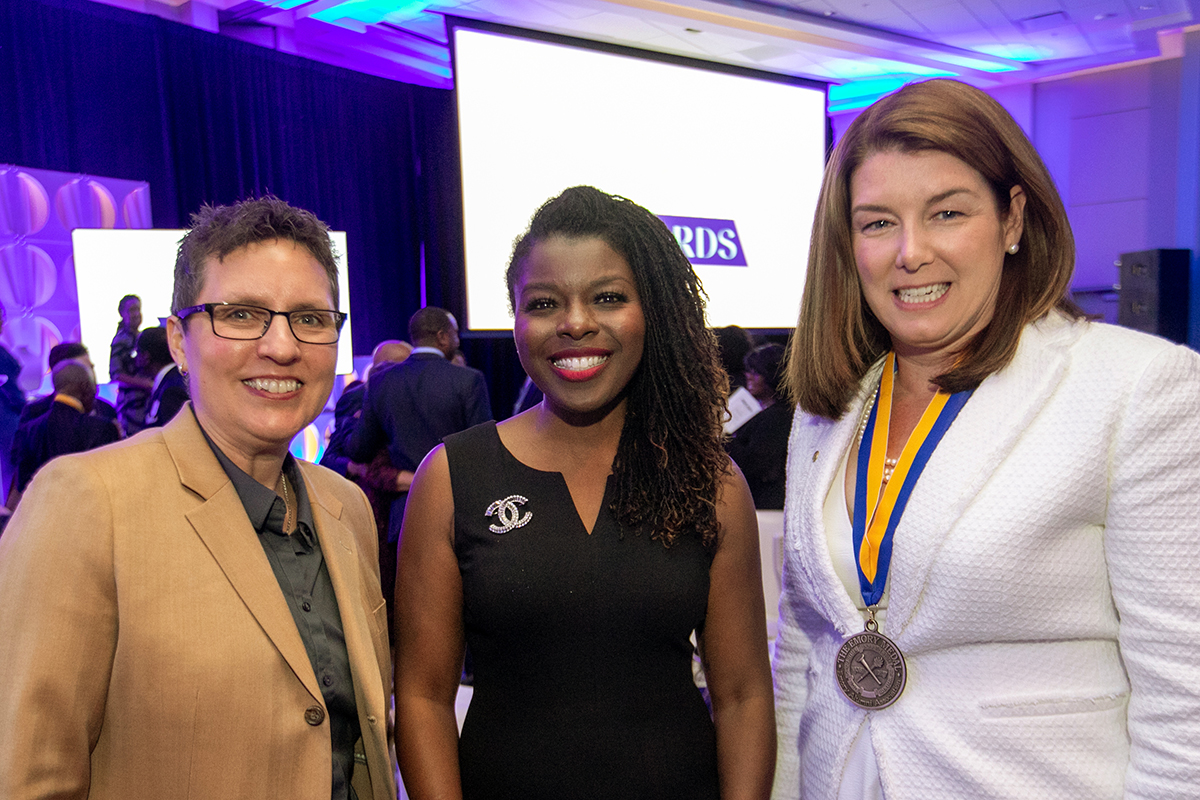 Each year, Emory University honors outstanding alumni with awards celebrating their achievements in service and leadership.
The Community Impact Award recognizes alumni who, whether through professional or volunteer service, have made significant and positive impact on the lives of others and embody the values represented in the university's vision. The J. Pollard Turman Alumni Service Award is given to an alumnus/a who demonstrates exceptional volunteer leadership. This award comes with a $25,000 gift from the Tull Foundation, which the recipient can direct to any Emory school, division, or program. The highest of all alumni awards, the Emory Medal honors its recipient for service to Emory, service to the community, and achievement in business, the arts, the professions, government, or education. Due to an overwhelming number of candidates, two Community Impact Awards and two Emory Medals were given this year.
Of the five 2022 awardees of Emory's top honors for alumni, three hailed from Rollins. Let's meet the winners.
Community Impact Award 
Trish Miller 17MPHwas 19 years old when she dove headfirst into 12-foot-deep water. It was spring break, and after a 15-minute swim lesson from friends, she mustered the courage to take the leap. Adrenaline soaring, her body crashed into the water. It was a frantic few moments before Miller realized that she had no idea how to float or tread water. Luckily, her friends sprang into action and saved her life. She went on to learn that experiences like hers were far too common. In fact, drowning deaths are the second-leading cause of death in children 17 and under. For Black children, the rates are even higher than for their Hispanic and white counterparts. Faced with her own experience and alarming statistics, Miller knew what she had to do. In 2017, she founded SwemKids. The school-based water safety and swimming instruction program transports elementary and middle school students to local pools as part of their school's curriculum. The organization aims to break two large barriers for Black children learning to swim: access and affordability. Miller is shining a light on the racial disparities and health inequities that have persisted for generations. With each lesson given at SwemKids, she is envisioning a new way for Black communities to approach swimming. 
J. Pollard Turman Alumni Service Award
Lisa M. Carlson 93MPH has spent the last three decades dedicating her life to public health and Emory. She first came to Emory in 1992 as a first-generation college student and Woodruff Scholar. Carlson credits the effortless sense of community she found as a student, her successful career, and her marriage to fellow alumna, Johanna Hinman 98MPH, as the reasons why she's stayed so closely tied to the university. Carlson carries dual roles at Emory as an affiliated instructor at Rollins and executive administrator of research administration at the Emory School of Medicine. She has inspired hundreds of students to think critically about today's public health issues while championing public health on the national level. Carlson has served as president of the American Public Health Association and made history as the youngest president to be elected to the Georgia Public Health Association. She has made it her mission to serve Emory in a multitude of ways, from committees and boards to fundraising and individual giving. A former president of the RSPH Alumni Board and member of the Emory Alumni Board, a perennial mentor, speaker, and panelist, Carlson never declines an opportunity to share her knowledge and experience with others. She was instrumental in raising funds for Rollins during Campaign Emory and is again guiding fundraising efforts through the 2O36 campaign as a member of the RSPH Campaign Advisory Committee. She also leads the effort to endow a scholarship in honor of Dr. Nancy Thompson to support student thesis projects at Rollins. Her lifelong leadership, service, and mentorship at Emory and beyond is truly remarkable, embodying the service and commitment to Emory and the community at large that the award was created to recognize. Carlson has paired personal gifts from her wife, herself, and their parents with the $25,000 gift from the Tull Foundation to create the Hinman-Carlson Family Scholarship, which will benefit MPH students at Rollins.
The Emory Medal 
Dr. Jean O'Connor 98C 01L 01MPHhas spent more than two decades as a public health leader ensuring communities are healthy—and stay that way. She previously worked for the State of Georgia as the chief policy officer and chronic disease prevention director. In that role, she oversaw $30 million in statewide grants and programs related to risk factors for chronic disease, health equity, the state's health improvement planning process, and partnerships across sectors. She also worked at the Centers for Disease Control and Prevention for 10 years as a health scientist and was the acting associate director for policy for the Center for Preparedness and Response. She has taught at Rollins since 2003 and the doctoral program at the University of Georgia since 2017. While working and teaching, she earned a doctor of public health in 2009 from the University of North Carolina at Chapel Hill. O'Connor has always been deeply committed to public service. She's the past-president of the US National Association of Chronic Disease Prevention Directors and serves on several nonprofit boards, including Heluna Health. In 2018, she was named to the Fulbright Specialist Roster for global health and law. The same verve O'Connor has committed to public service has kept her involved with Emory. While attending Emory, she volunteered extensively for Emory EMS, and she has continued to contribute to many committees, organizations, and groups during the past 25 years. 
Share This Story