Emory's new campaign aims to transform the future
2O36: The Future Starts Here
---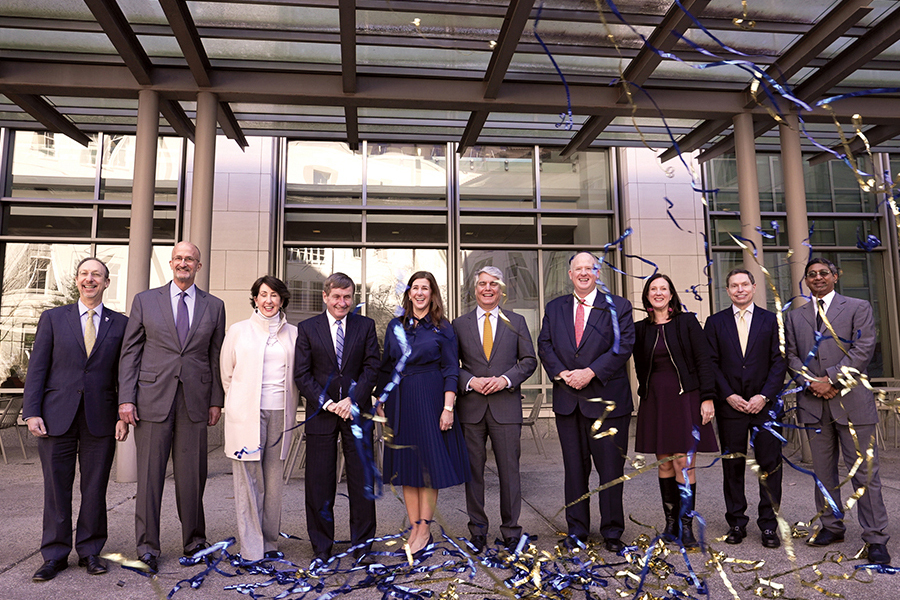 Emory University has launched its most ambitious campaign to date to raise $4 billion to advance its mission of serving humanity through knowledge. Named for Emory's bicentennial, 2O36 is about investing in people for the benefit of people.
"When there is an important issue, a tough question, I want them to think, 'I wonder what's going on at Emory? I wonder how they're solving this? I wonder what research is addressing this question,' " says University President Gregory L. Fenves.
Emory kicked off the community phase of its visionary 2O36 campaign in late October 2021 with events on the Emory Quad. Five geodesic domes and a grand stage were erected to tell the stories behind the campaign. Dean Curran and other deans and administrators shared their priorities for the future of Emory. Dr. Briana Woods-Jaeger, assistant professor of behavioral, social, and health education sciences, discussed her work regarding stress and trauma-related health disparities in mental health in collaboration with community partners in Atlanta and across other regions. The work of Dr. Rachel Waford Hall, a clinical psychologist and assistant professor in global health, which centers on identifying and helping young people with psychosis get into treatment, was also featured.
The university had already raised $2.6 billion through the preceding four-year silent phase of the campaign. It now hopes to raise the remaining amount over the next three years. 
In addition to supporting priorities across all nine of the university's schools, multiple centers and institutions, and Emory Healthcare, the campaign will place special emphasis on three core areas—student flourishing, faculty eminence, and research excellence.
Central to all of these goals is increasing Emory's endowment. Endowed scholarships to ensure that cost doesn't deny top students the benefit of an Emory education. Endowed faculty positions to enable the university to continue to attract and retain the most talented and accomplished faculty in their fields. And endowed funds earmarked for research to answer the most pressing questions and address the crucial needs of tomorrow.
The campaign is guided by a Campaign Council led by Susan Cahoon 68C, John and Cammie Rice, Sarah Beth Brown 89B, Adam Rogers 92C 96M P19 P21, and Stephanie Rogers 92C P19 P21. Amy Rollins Kreisler, Mary Ann Lanier, and Melissa Lowe serve on both the university Campaign Council and the Rollins Campaign Committee.
"If we boldly invest in student flourishing, faculty eminence, and research excellence, Emory will contribute as never before," says Fenves. "And the 2O36 campaign will empower our students, faculty, and staff to accomplish our mission: service to humanity. The future at Emory starts now."
2O36 AT ROLLINS
Rollins had already raised $208 million by the time the futuristic domes were erected on the Quad. A very generous gift of $65 million for the R. Randall Rollins Building enabled the school to meet one of its highest campaign priorities. Thirty donors have established their own endowed scholarship funds through an innovative scholarship-matching initiative that matches gifts ranging from $50,000 to $125,000 on a one-to-one basis. This program has added almost $22 million to the Rollins endowment. 
Rollins has been focused on building a strong endowment for more than 25 years. Great strides were made toward this goal when shortly after the campaign launch, Rollins received the largest gift in the school's history. The O. Wayne Rollins Foundation committed a landmark $100 million gift to create two new endowed funds, the Rollins Fund for Faculty Excellence and the Rollins Fund for Student Success.
The Rollins Fund for Faculty Excellence will be dedicated to recruiting and retaining exceptional senior faculty by nearly doubling the number of the school's endowed faculty positions and by providing early career support for Rollins assistant professors. 
Faculty are crucial to achieving success securing millions of dollars each year from private foundations and corporations including the Bill & Melinda Gates Foundation, the Ray C. Anderson Foundation, the Robert W. Woodruff Foundation, the Robert Wood Johnson Foundation, Giliad, and many others. 
The Rollins Fund for Student Success will be used to increase the number of merit scholarships given to public health students. This fund may also provide students with career-enhancing experiences through the Rollins Earn and Learn work-study and global field experiences.
"This campaign will allow Rollins to achieve transformative advances by attracting top-tier students and stellar faculty," says Curran. "It will fuel ground-breaking research. Investments in our school through the 2O36 campaign will have a wide ripple effect, improving the health and well-being of populations around the globe.
Share This Story